Wabash Class of 2011: Lead, Serve, Care
by Jim Amidon • May 15, 2011

Share:
Addressing his 171 brothers in the Wabash College Class of 2011, Commencement Speaker Jacob Surface urged each man to leverage the greatest strength developed in them over the last four years — the ability to care.
"America's fabric, our civil society is made up of people who care enough to take part," said the political science major from Crawfordsville.
"Our world is moved not by the wealth of nations or by multi-national conglomerates, but by people who believe in an ideal and care enough to see it through."
Surface traveled the world on Immersion Learning trips and study abroad, participated in track and cross country, and served as president of his fraternity, Theta Delta Chi, and the Wabash Acts Responsibly Council.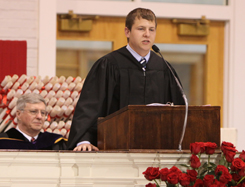 In his comments, he suggested ways in which his classmates gave of themselves to mentor local kids and provide healthcare in Central America; worked hard to sustain Wabash's many student organizations; volunteered to rebuild post-Katrina New Orleans; and built Habitat for Humanity homes near campus.
"From the destitution of Appalachia to the disaster of Katrina and out of the most fearful circumstances right here in Crawfordsville, our classmates have seen smiles emerge," said Surface, a summa cum laude graduate who will begin graduate work at Indiana University in the fall. "And the people smile not from something they just bought and not from the prospects of a raise or profit. They smile because they have someone to smile with, someone who cares for them and for whom they care. They are helping each other get through this thing, whatever it is."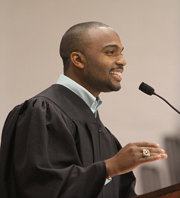 Surface was one of two senior speakers at Wabash's 173rd Commencement Ceremony. He shared the stage with Indianapolis native D.J. Singfield, a decorated linebacker on Wabash's football team and a difference-maker in the lives of local children.
While his speech was entitled "DING DING," a reference to Wabash's historic Monon Bell victory in November, his central theme was leadership and service.

"We are all from different walks of life and have different aspirations and goals we want to achieve," Singfield said. "One thing that we will always have in common, though, is that at the core we are Wabash men. This means we are called to stand for something greater than ourselves, to overcome obstacles that many wouldn't even attempt, and to dream bigger than anyone can imagine."
Singfield told a story about a young man he had met a couple of years ago, then bumped into again three weeks ago at the local Boys and Girls Club. The boy ran up to Singfield and told him that he still had a shirt D.J. had signed — Wabash Always Fights — hanging in his bedroom.
"You see it's the small acts of service that count and leave a lasting impact," he said about the encounter with the boy. "Live to serve so that people just like my little friend from the Boys and Girls Club can be inspired and encouraged to be great. And as we leave and branch out into the world around us remember to take our 'DING DING' mentality with us and serve those around us.
"Whether you are fighting social injustice, working countless hours on a tough job, dealing with difficult family situations, fighting to get into grad school, taking care of a family, or simply striving to become the best individual you can, each day we must remember to let 'DING DING' ring in the back of our minds so that you have the opportunity to impact the world around you. Lead. Serve. And let 'DING DING' ring loud and proud in your lives."
President Patrick E. White handed each of the 172 men their sheepskin diplomas as he shook their hands and wished them luck in the future. While his charge to the graduates was brief, he spoke with passion and pride at the many accomplishments of the men in the Wabash Class of 2011.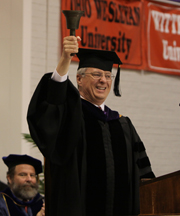 "Gentlemen, it is you who have taken on the rigors of this great College and have thrived under the challenge of Wabash," President White said. "You have emerged stronger for your perseverance and your courage. Wabash has taken you seriously and you have responded with maturity and commitment. It is you, gentlemen, who have asked difficult questions and discussed them with passion and civility.
"When I rang you in four years ago, I asked you to shake one another's hand and in so doing meet the men who would be your teachers as well as your classmates. You have fulfilled the promise you made that day four years ago."
Before he presented diplomas to the graduating seniors, President White paid tribute to three men who received honorary degrees from Wabash. Alumnus Robert F. Charles, Jr. '59 received an honorary Doctor of Humane Letters degree; Indiana Governor Mitchell E. Daniels, Jr. received an honorary Doctor of Laws degree; and Walter E. Massey, President of the School of The Art Institute of Chicago and Emeritus President of Morehouse College, received an honorary Doctor of Science and Humane Letters degree.
All three honorary degree recipients were saluted for their lives of service to others — both professionally and philanthropically. In presenting the citations, President White focused on each man's individual efforts to care for the communities in which they have lived. The theme dovetailed with Surface's challenge to the students in his Commencement Address.
"Most of us here today will not save the world," Surface concluded. "But caring about our communities, our hobbies, our passions binds us to other people who care about the same things, and that creates the communities that make life worth living. Caring is our greatest strength — for in communities we can accomplish what no one of us ever could. We can save our world gentlemen, even if it means enjoying, together, the precious blink of an eye that defines man's time on it. So please, care."
Nearing the end of the ceremony, President White lifted the bell used by Caleb Mills to call the first Wabash students to class almost 180 years ago. As he did so, he both thanked the students for their contributions and reminded them that Wabash will always be with them.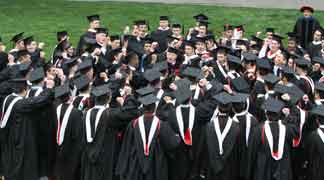 "I thank you for all you have taught me," said the President. "Thank you for your leadership, your commitment to the College, and your teaching of one another and all of the underclassmen. You have served as mentors and brothers to those younger — and older — than you at Wabash. We will continue to rely on your leadership and your example.
"I know that you are ready to take on the challenge of graduates of this great college. You know that Wabash College always travels with you wherever you are, however you act. Wabash College leads and acts through you. The future may not always be easy, but I am absolutely confident that you will rise to the challenges and opportunities that lie before you, for Wabash Always Fights!"