Wabash Honors Retiring Faculty/Staff
by Steve Charles • May 13, 2011

Share: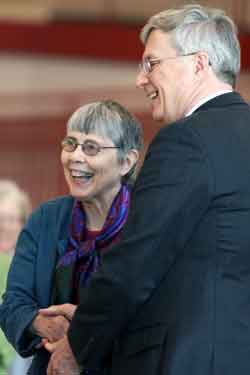 The Wabash community gathered at the Knowling Fieldhouse Friday to honor nearly 300 years of teaching and service to the College as faculty, staff, students, trustees, family and friends paid tribute to this year's retirees.
See photo albums from the luncheon here and here.
In photo: Professor Leslie Day is congratulated by President Pat White.
Photo by Howard Hewitt