Honors Given at Awards Chapel
• April 29, 2011

Share: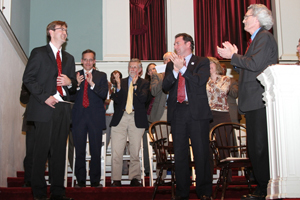 Six members of the Class of 2011 were names George Lewes Mackintosh Fellows at the annual Student Honors Chapel. The latest Fellows are: Austin Keith Drake, Austin Eugene Flynn, Lucian William Lupinski, James Michael Nossett, Jacob Duane Stump, and Brandon John Tritle.
Each division recognized those students who achieved Distinction in comprehensive examinations and each department awarded honors to its top students. Special recognition was given to students for exemplary work in student publications, community service, and overall merit.
In addition to the more than 60 student honors given, Professor of Psychology Robert Horton was honored with the McLain-McTurnan-Arnold Excellence in Teaching Award. Click here to see select photos from the event. Click here to see a complete list of award winners.