McCarthy Posts Nation's Sixth-Best Time
by Brent Harris • April 25, 2011

Share: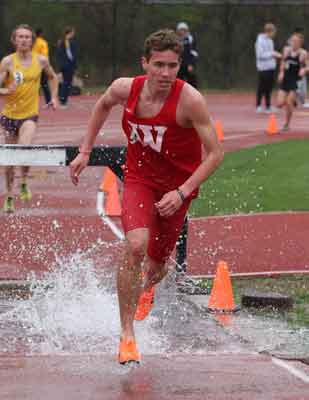 Junior Kevin McCarthy ran his fastest 3000-meter steeplechase time of the season, finishing sixth at Saturday's Jesse Owens Track Classic at Ohio State University. His time of 9:11.68 is the sixth-quickest among all men's NCAA Division III competitors. McCarthy's time is an improvement over his previous NCAA Championship provisional qualifying time of 9:16.78.
Senior Seth Einterz joined McCarthy at the meet, finishing eighth out of 26 runners in the 5,000-meter run, crossing the finish line in 14:50.58.
While McCarthy and Einterz competed at the Jesse Owens Classic on Saturday, the remainder of the Wabash team traveled to Louisville, Kentucky for the Bellarmine University Classic. Weather forced the cancellation of several events at that competition.
Daniel Ambrosio won the javelin throw with a toss of 56.89 meters (168.08), his longest mark of the year. Evan Groninger was right behind in second place with a throw of 55.11 meters (180 feet, 10 inches, outdistancing the rest of the field by over 15 feet.
Joel Beier finished second in the shot put with a mark of 14.17 meters (46 feet, 6 inches). Matt Scheller was third overall with his mark of 14.12 meters (46 feet, 4 inches). Scheller was also third in the hammer throw, tossing the implement 46.98 meters (154 feet, 2 inches). Alex Moseman was sixth overall (42.84 meters; 140 feet, 7 inches), while Zach Helman grabbed seventh place (40.45 meters; 132 feet, 8 inches). Brad Pusateri was eighth (39.00 meters; 127 feet, 11 inches). Ambrosio added a fifth-place finish in the high jump by clearing 1.78 meters (5 feet, 10 inches).
Donavan White blistered the track with a season-best time of 3:56.43 to take second in the 1500-meter run. White's time is the fourth fastest of the season by a North Coast Athletic Conference male athlete in that event. John Haley grabbed second in the 400-meter dash with a time of 49.40.
Patrick Posthauer was third in the 110-meter hurdles, finishing in 15.56. Teammate Billy Rosson took fifth place with a time of 15.96. Sean Hildebrand tied for fifth place in the 100-meter dash with a time of 11.18. Chase Belton tied for seventh by finishing in 11.34.
Jesse Owens Track Classic Results