Widup's Gem Earns Wabash Win
by Brent Harris • April 20, 2011

Share:
Sophomore pitcher Chris Widup fired a compete game, nine inning, five hitter on Wednesday night at the US Steel Yard in Gary, Indiana to help Wabash to a 4-1 win over Elmhurst College.
Widup (below left) faced a total of 35 batters, recording a career-best 10 strikeouts. His only rough inning came in the fifth inning when he issued a one-out walk — one of only three walks surrendered in the game by the right hander Two batters later Elmhurst's Alex Molek drilled a pitch off the left field wall to tie the game at 1-1.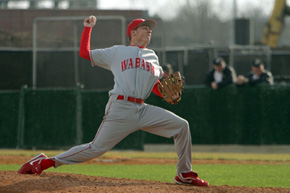 Wabash jumped on the board in the second inning. David Seibel was hit by a pitch, then scored one batter later when Joe Johnson drilled a pitch to right-center field for an RBI double. Johnson got things going again for the Little Giants in the seventh inning, leading off with a walk before moving to second on a sacrifice bunt. Chris Deig was hit by a pitch, then John Pennington hit a flair single to right to load the bases. A passed ball with two outs allowed Johnson to come home with what would prove to be the eventual winning run. Montana Timmons brought home two more runs with a single past third to lock up the win for Widup.
Pennington had two hits, while Deig, Timmons, and Johnson each had one.
Wabash improves to 16-20 with the win, while Elmhurst falls to 11-13. The Little Giant return to action in the North Coast Athletic Conference this weekend with a key four-game series. Wabash plays two seven-inning games at Kenyon on Friday afternoon before closing out the regular season on Saturday with a pair of seven-inning contests at Denison.
Game Stats