Wabash To Host Summer Soccer Camps
by Brent Harris • April 20, 2011

Share:
Wabash College head soccer coach Roberto Giannini will once again offer two summer training camps for boys and girls from four-year-olds to high school.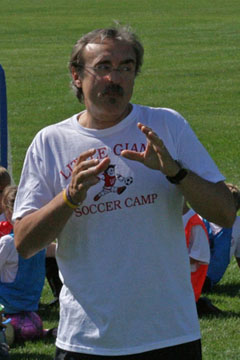 The Little Giant High School/Team Soccer Camp will run from Monday, June 6 through Thursday, June 9 from 5 to 7 p.m. The camp is open to boys and girls who will be enrolled in high school in the fall of 2011. The cost is $115 per player for a team, with a minimum roster of 14 players. Individuals or teams with less than 14 players will be charged $135 per player. Those enrolling after April 30 will be charged $135 regardless of the size of the team.
The Little, Little Giants Soccer Camp will begin on Monday, June 6 and run through Thursday, June 9 from 9 a.m. until 11 a.m. and is open to boys and girls ages 4-13 (students enrolled in the eighth grade as of the fall of 2011). Early bird registration begins immediately with a cost of $69. Registration costs increase to $79 after May 31, and those registering after this date will not receive a camp T-shirt.
Both camps will take place at Hollett Little Giant Football Stadium. All players need to bring a water bottle, shin guards, a properly inflated soccer ball, proper athletic attire, and shoes for either indoor or outdoor training based upon the weather.
Camp coaches will include Coach Giannini and former Wabash assistant coaches David Lopez, Jeff Oleck, and Aaron Blessing.
Please contact Coach Giannini by email or phone (765-361-6208) with any additional questions.