Holm Receives Weekly Conference Award
by Brent Harris • April 19, 2011

Share: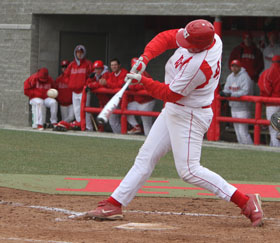 John Holm has been honored by the North Coast Athletic Conference after a record-setting week by the Wabash first baseman. Holm was named the NCAC Baseball Player of the Week after breaking the career home run and RBI records for the Little Giant program.
The junior first baseman and designated hitter belted a solo home run in extra innings on Sunday to give Wabash a 10-9 win over Wittenberg and set the new Little Giant career homer mark at 26. He tied Matt Dodaro for the career record on Wednesday with a solo home run against DePauw. Holm finished that game with three RBI for the 117th of his career, also passing Dodaro on the all-time list.
Holm finished the week hitting 11-of-16 through four games for a .688 batting average. He scored nine runs and collected 11 total RBI. Holm hit a double and a triple in addition to four home runs for the week. He blasted two more long balls against Wittenberg in the second game on Sunday.