Young Sets New Pole Vault Mark
by Brent Harris • April 18, 2011

Share:
Less than 24 hours after Matt Knox set a new Wabash record in the pole vault, teammate Trevor Young eclipsed that mark with a new NCAA qualifying effort at the Dave Rankin Invitational at Purdue University.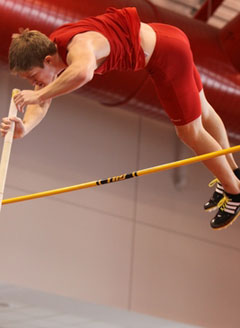 Young (right), a freshman from Southport High School in Indianapolis, cleared 4.80 meters (15 feet, 9 inches) at the Purdue meet on Saturday to better the previous record of 4.75 meters (15 feet, 7 inches) set by Knox Friday night at Rose-Hulman. Young placed 10th at the meet, and his pole vault height ties for the 10th-best effort this season by a male Division III athlete.
In other results from the Dave Rankin Invitational, Daniel Ambrosio finished second in the javelin throw with a mark of 52.04 meters (170 feet, 9 inches). Evan Groninger finished third with a throw of 51.13 meters (167 feet, 9 inches). Purdue's Chris Anderson won the event with a throw of 54.64 meters (179 feet, 3 inches).
Jake Waterman finished second in the 800-meter run, crossing the finish line in 1:56.53. Kevin McCarthy was fifth in the 1500-meter run with a time of 4:00.72. Billy Rosson was fourth in the 400-meter hurdles with a time of 56.60. Jake Ponton took second place in the 10,000-meter run with a time of 33:43.24. Patrick Posthauer grabbed seventh place in the 110-meter hurdles by finishing in 15.39.
Game Stats