Rain Brings an End to Loss to Chicago
by Brent Harris • April 16, 2011

Share:
Rain shortened a scheduled nine-inning contest Saturday between the University of Chicago and the Little Giants at Wabash Ballpark. The visiting Maroons claimed a 21-7 victory over Wabash thanks in part to a 14-run inning in the sixth.
View photos from the Little Giants' game against Chicago here.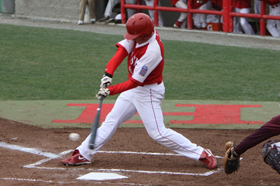 Chris Deig (right) managed to collect three hits in four at bats for Wabash, as did Montana Timmons. Timmons produced two RBI, including a run-scoring triple for his third three-base hit of the season. Freshman Charlie Kolisek added his first triple of the season after coming off the bench midway through the game.
Scott Kickbush (below left) recorded his first two hits of the season, while Alex Flynn made the most of his first career hit by blasting a two-run triple to center field in the seventh.
Wabash nearly matched Chicago (11-6) in hits with 16 compared to 14 for the Maroons. However, Little Giant pitchers surrendered seven walks in the loss.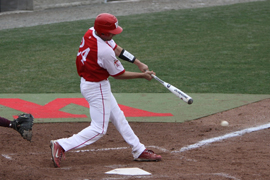 The Little Giants will play their final regular season home game on Sunday with a pair of seven-inning contest against Wittenberg University. The first pitch is slated for 1 p.m., with the official Wabash Ballpark dedication ceremony to precede the start of the game. Wabash will honor the six senior members of the 2011 team in between games one and two on Sunday.