Light, Architecture, Form: Senior Artists Open Exhibition
• April 14, 2011

Share: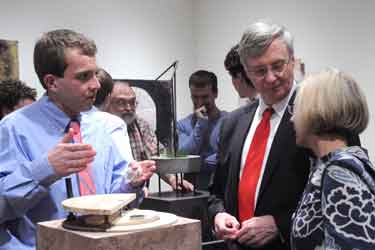 Six of the College's most creative students were celebrated Monday when the Senior Art Majors Exhibition opened in the Eric Dean Gallery.
See photo albums of the event here and here.
Aaron Cantu, Callum Davies, Kyle Edwards, Will Skertic, Ian Starnes, and Tian Tian presented their senior thesis work, which will be on display through Commencement.
"This exhibition represents a final rite of passage for the talented men who have dedicated their academic focus on the visual arts," said Gallery Coordinator Michael Atwell.
Cantu, Starnes, and Tian will exhibit paintings, while Davies, Edwards, and Skertic will exhibit sculptures.
Tian's paintings are inspired by light — natural or artificial — in all of its forms.
"Over the years, I have been fascinated by light during countless occasions," said Tian, who is also a classical pianist and hails from Shenyang, China. "Every place I have traveled around the world has possessed a unique tone of light, and that light has made an impact on the most memorable experiences of my travel in different places. Moreover, every genre of music I have listened to also has reminded me of certain colors and intensities of light. Therefore, I dedicate this series of paintings to capturing and realizing these emotional nuances inspired by light."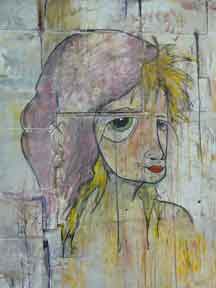 Similarly, Cantu's paintings are also inspired by his travels throughout Indonesia. "My time there allowed me to explore and reflect on my art and its relation with not only myself but any viewer of my work," said the native of Raymondville, Texas.
While traveling abroad, Cantu grew frustrated with his inability to track down art supplies so that he could express in art what he was experiencing in life. Eventually, he found some simple supplies — a brush, some ink, a pen, and a few watercolor pencils. There's a bit of randomness in his creations.
"By using recycled paper, which was from the backs of pages from my Indonesian language workbook and the accurate placement of coffee stains, I was able to create a variety of light and dark tones in the paper," he explains. "I then would decipher through these tones to find and reconstruct faces and images found through the material's texture and tonal changes. I continued this idea of working from spills and eventually added color with watercolor pencils and bold outlines with ink. This process followed me home and became the starting point for much of my artwork back in the states."
Starnes' work focuses on how humans interact with nature — it's a theme he thinks about constantly and that has resulted in two different sets of paintings.
"I have always been interested in both nature and the way we, as humans, interact with it," said the Brentwood, Tennessee native. "Nature, like society, is constantly changing and evolving and I sought to incorporate this correlation between the two in a series of abstract paintings. I have always been drawn to the power of nature and always sought to incorporate it into my art, and I have also always been fascinated by the 'urban jungle', and how society interacts with the cities it has created."
Architecture is a theme used by a few of this year's crop of senior sculptors.

Davies' senior portfolio explores the relationship between architectural structure and the environment in which it is occupied. Davies says the two exist in a "delicate balance."
"My sculptures are built from a combination of materials that are both natural and manufactured, and depend on viewer interaction in order to discover the underlying relationships," said the Westfield, Indiana native. "My ambition for this body of work is to carefully create tension and encourage the viewer to manipulate the sculpture in order to understand this delicate balance."
Edwards, who hails from Kearney, Nebraska, has experimented with "Primary Form Abstraction." He says he became fascinated with metal as a child while watching his grandfather weld and repair car bodies. He's taken that fascination with welding iron to "suggest the force and tension inherent to working with metal."
"Primary Form Abstraction allows me to communicate ideas through the linear construction, color choice, texture, and scale," said Edwards. "My works suggest the dynamic themes of movement, balance, growth, as well as the qualities of tension and force."
Skertic has chosen to use bronze as a way of communicating human emotion. He's used the lost wax method to cast bronze with human qualities.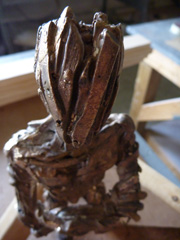 "My figures provide an opportunity for individuals to create narratives or imagine realities of their own," said Skertic, who is a Carmel, Indiana native. "I conceive of this collection as an opportunity for people to consider the shared aspects of their human experience with one another… The figures are meant to have some degree of ambiguity and interact with a box, frame, or construction of some sort to draw out narratives or realities, which anyone with a human body is qualified to create and express."
The Eric Dean Gallery is open during normal College operational hours.
In photo: Callum Davies '11 explains his work to President Pat White and Chris White.