Single Stroke the Difference in Match Play Loss
by Brent Harris • April 13, 2011

Share: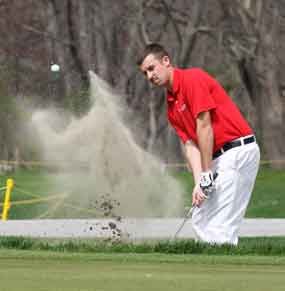 Wednesday night's Giant-Engineer Match Play Classic between Wabash and Rose-Hulman came down to a single stroke, with Rose winning 5-4 overall to claim the title in this year's meeting between the two schools.
Wabash and Rose split the individual match play competition, with each team winning four head-to-head contests. The Engineers posted a five-man score of 381 in stroke play, while Wabash finished with a score of 382 to give Rose the match play point and the overall victory.
Jake German and Luke Moton of Wabash and John Rigitano and Brandon Scroggins of Rose tied for medalist honors by shooting 75s at the Crawfordsville Country Club. Moton won his head-to-head match play competition against Cliff Parsons to earn a point for Wabash. German also scored a point with win in his match against Rigitano.
Scott Morrison and Ben Foster each tallied points in their match play victories, as well.
Match Play Results: Rose-Hulman 5, Wabash 4
Individual Match Play
#1 - Luke Moton (W) defeated Cliff Parsons (RH)
#2 - Brandon Scroggins (RH) defeated Drew Palmer (W)
#3 - Eric Kamer (RH) defeated Jordan Koch (W)
#4 - Jake German (W) defeated John Rigitano (RH)
#5 - Aaron Kiraly (RH) defeated Mike Piggins (W)
#6 - Scott Morrison (W) defeated Blake Knotts (RH)
#7 - Ben Foster (W) defeated Thor Geisler (RH)
#8 - Steven Stoops (RH) defeated Alex Robbins (RH)
Stroke Play Scoring (Top 5 out of 8 scores) - Rose-Hulman 381, Wabash 382
Game Stats