Wabash Takes Two At Hiram
by Brent Harris • April 10, 2011

Share:
The Little Giant baseball team concluded its eastern-most trip of the regular season Sunday afternoon with a pair of victories over Hiram College. Wabash took the first North Coast Athletic Conference contest 10-3 before adding a 12-1 victory in game two.
Wabash opened game one with a pair of runs in the third inning on a two-run single by Montana Timmons to score John Pennington and John Holm. The Terriers answered with a run in the bottom half of the inning and two more in the fifth for a 3-2 lead before the Little Giants exploded with a six-run sixth inning.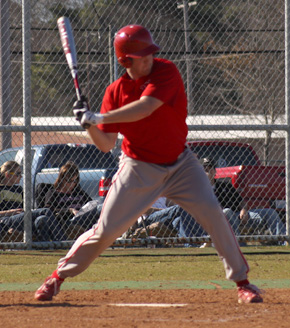 Tanner Coggins started the inning with a double, scoring one batter later when PJ Tyson reached on a Hiram error. Ross Hendrickson reached on a fielder's choice, followed by a single from David Seibel. Trey Fankhauser's walk loaded the bases for Chris Deig, who lifted a double to score runs. Two batters later Holm cleared the bases with his sixth home run of the season to give Wabash a 7-3 lead.
Wabash added two more runs in the seventh with another Coggins (left) double, a Tyson single, a Hendrickson RBI groundout and a sacrifice fly by Fankhauser.
Chris Widup earned the victory in relief of starter Luke Zinsmaster. Widup worked three innings of no-hit baseball with only two walks, including one intentional pass. Zinsmaster threw four innings, allowing three runs on six hits with two walks and a strikeout.
Coggins finished with three hits in the game, while Holm had two hits and three RBI.
After scoring only one run in two games on Saturday at Allegheny, the Little Giants exploded for a seven-run first inning in game two against Hiram (8-14, 0-8 NCAC). Timmons, Tyson, and Hendrickson each had RBI singles, while Seibel brought home two runs with his one-base hit. Deig added a sacrifice fly to the offensive output after leading off the inning with a single.
Pennington drilled a two-run single in the third to help Wabash add a three-spot in the inning, taking an 11-1 lead. Robby Hechinger brought home the final run of the game in the sixth to complete the series sweep.
Jeff Soller returned to the lineup for the first time in over two weeks after missing action due to an injury. He started the game on the mound, pitching six innings of four-hit baseball to earn his second win of the season. He allowed one earned run with no walks and three strikeouts. Eric Foust pitched the final inning without allowing a base runner while striking out two.
Timmons, Hendrickson, Hechinger, and Seibel each had two hits for Wabash. Pennington and Tyson joined Seibel with two RBI in the ballgame.
Wabash improved to 13-18 overall and 6-4 in conference play with the two victories. The Little Giants return to Wabash Ballpark Tuesday afternoon for a 4 p.m. contest against arch-rival DePauw University.