Prof. Abbott '85 On Wabash Traditions - Good & Bad
• April 7, 2011

Share:
Professor of Theater Michael Abbott '85 delivered Thursday's Chapel Talk "Off the Table." His talk centered on discussion of coed education at Wabash.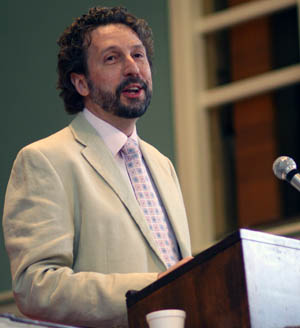 Abbott shared his own Wabash story and his visits to campus as a high school student. He recalled meeting people at the College and his first overnight campus visit, which occurred on Mar. 30, 1981. That was the date of an assassination attempt on then President Ronald Reagan.
He was impressed with the College that day because classes were not canceled and everyone was talking about the events. After talking with Dean Norman Moore, who told him "at Wabash, we scrutinize everything," Abbott knew then he wanted to be a Wabash man.
Abbott then discussed a faculty meeting in the 1990s, which focused on strategic planning and capital fundraising. He raised a question at that meeting and asked if coed education would be discussed in the process. He was told, "that's off the table."
Abbott called that "the most troubling day of my career at Wabash."
"Why did we shrink from that opportunity," he asked. "Some may mistake my remarks as a proponent of coed education. When we take thorny issues off the table, we deny ourselves the opportunity to interrogate them and that's what we're built to do."
Abbott mentioned the changes in Chapel Sing and the rights and wrongs of tradition. "Don't use it as an inarguable defense," he said.
See Abbott's entire Chapel Talk here: