Wabash Loses 6-1 at Valparaiso
by Brent Harris • April 6, 2011

Share:
Ross Hendrickson's RBI shot in the eighth inning ended a shutout in the Little Giants' 6-1 loss at Valparaiso Wednesday night.
Chris Deig led off the eighth with a single up the middle, moving to third base on a double by David Seibel. Hendrickson followed with a sharply hit ball up the middle that was deflected by the pitcher toward third. The Crusaders defense retired Hendrickson at first, but Deig raced home with lone run of the ballgame for Wabash.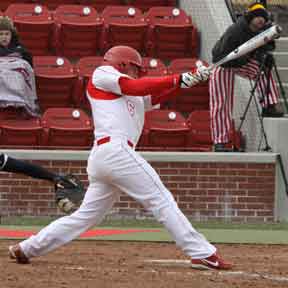 Deig
(left)
recorded the only other hit for the Little Giants with a two-out single in the second inning.
Valparaiso (7-21) scored single runs in the first and third innings, followed by two in the fourth and another run in the fifth. The Crusaders pushed another run in the seventh inning.
Chris Widup took the loss, working four innings while allowing four runs on five hits with two walks and three strikeouts. Nate Adams threw two innings of relief, allowing an unearned run on four hits with a strikeout. JT Miller and Brian Van Duyn each tossed one inning. Van Duyn gave up one hits and one walk, while Miller gave up three hits and one earned run with one strikeout.
Wabash (11-16, 4-2 NCAC) returns to conference action this weekend with its first league road trip. The Little Giants head to Meadville, Pennsylvania for two seven-inning games on Saturday against Allegheny College before traveling to Hiram College on Sunday for a pair of seven-inning games.
Game Stats