Wabash Students Honored as Future Teachers
• April 5, 2011

Share:
The Indiana Association of Colleges for Teacher Education honored three Wabash students at its annual banquet on Friday. Chris Beedie, Ryan Bowerman, and Cody Stipes received Outstanding Future Educator Awards from the IACTE, which includes 41 member colleges and universities.
"Our three guys are distinguished for being among the top education students in the state," said Professor Michele Pittard. "In addition to being recognized at the banquet, the award winners also had the opportunity to hear the 2010 Indiana Teacher of the Year speak as part of the awards program."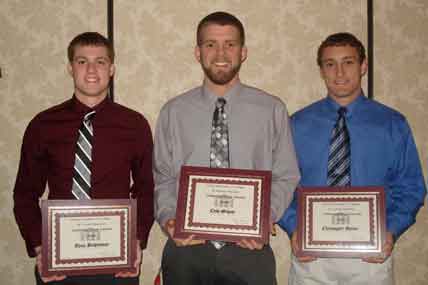 Pittard, chair of the Teacher Education program, nominated the Wabash students for the honor. She said the Teacher Education Committee "makes our selections based on students' performance in the Education Program and during student teaching."
"This award not only praises the hard work of guys like Chris, Ryan, and myself, but also our dedicated Teacher Education Program," said Stipes.
"Dr. Pittard and Dr. [Deborah] Butler have really prepared me for the challenges of teaching, and I know that I would not be nearly as prepared right now if it were not for their hard work and dedication to our program and our students."
Beedie, a native of Western Springs, Illinois, is a Spanish and religion double major who is currently student teaching at North Montgomery High School.

"The main thing that excites me about becoming a teacher is the opportunity it provides for making an impact on students," said Beedie. "I really enjoy working with kids, and being able to be a part of their education is a blast."
Bowerman, who is a Crawfordsville resident, is a mathematics major and is completing his student teaching at nearby Western Boone High School. "We have all put in a lot of work preparing, planning, and teaching this semester, so to be recognized for our hard work with other student teachers around the state was a big honor," said Bowerman.
Stipes, past-president of the Wabash Student Body, hails from Bunker Hill, Indiana. He, too, is a mathematics major and is a student teacher at Crawfordsville High School.
"This award is truly humbling and also inspires me to work even harder," said Stipes. "To experience the faith and potential that our Teacher Education Program sees in me inspires me to become a better educator and to make a bigger difference in the lives of my students."

One aspect of the IACTE awards banquet that Stipes found unsettling was the gender make-up of the honorees. "Of all the students and schools that were present at the banquet last Friday, at least 75 percent of the teachers being honored were women. That just speaks louder to why it is so important for Wabash to continue to develop outstanding teachers and positive male role models."
Beedie said his top goal is to become as good of a teacher as he has had throughout his education.
"One added benefit of teaching is that I find that I learn as much as the students do every day, and I like the atmosphere and partnership that this creates within each classroom. My only hope is that I can make the same impact on at least one student that many of my teachers have had on me throughout the years!"