Wabash Tennis Adds Two More Wins
by Brent Harris • April 2, 2011

Share:
The Little Giant tennis team added two more wins to its season totals, improving to 13-5 overall with victories Saturday over Wittenberg and Calvin. Wabash scored a convincing 7-2 win against North Coast Athletic Conference foe Wittenberg before edging the Knights 5-4 in the evening match.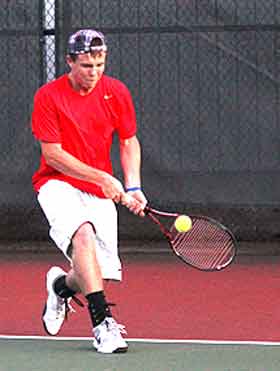 Wabash swept doubles play against the Tigers to open the NCAC contest Saturday morning. The number one team of Daniel Delgado and Wade Miller took an 8-5 win in their flight, followed by an 8-4 victory by the second doubles team of Peter Gunderman and Ricky Ritter. Ian Leonard and Evan Bayless completed the doubles winning streak with a perfect 8-0 win in the third flight.
Wittenberg took the first two singles matches before the Little Giants rallied for four consecutive wins. Delgado went to three sets at third singles, picking up a 2-6, 7-5, 7-6 (5) victory. Miller (right) cruised to a 6-1, 6-1 win in the fourth flight. Ritter scored a 6-4, 6-4 win at fifth singles, while Leonard picked up a 6-3, 6-4 victory at sixth singles.
Head Coach Jason Hutchison switched up the lineup in the final match of the day against Calvin College. Miller moved to number two singles, where he scored another 6-1, 6-1 victory. Leonard moved up to number five singles, earning a 7-5, 6-2 win. Nate Koelper stepped into the lineup at number six singles to pick up a 6-3, 6-3 win.
Ritter and Gunderman combined for a 9-8 (4) win at number two doubles.