Bachelor Named Top Small Paper Again
• April 2, 2011

Share:
For the second time in three years, the Indiana Collegiate Press Association has named The Bachelor Indiana's top small college newspaper. The staff collected more than 20 awards in ceremonies Saturday at Bloomington.
The Bachelor staff collected 22 awards. including 10 first places, which allowed them to out-point DePauw, last year's winner, 44-32. The 10 first places was second only to 13 top honors in 2009.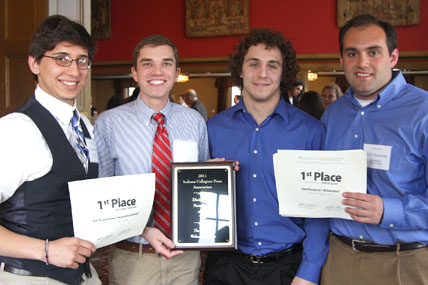 "I'm really pleased with the results of this year's competition," said Editor Riley Floyd '13. "We put together some great stories last year. Gary James and Chuck Summers' first place entries especially helped us to build up points. We've spent a lot of time this year trying to come up with new story ideas, and we continue to improve our layout each week."
The Bachelor was recognized as best daily, under Patrick McAlister's leadership, in 2009. But last year the small newspaper division was expanded to include schools like DePauw, Anderson, and Rose-Hulman. Wabash is the smallest school in all of the ICPA.
"This really was a bit of a shocker," Advisor Howard Hewitt said. "When the ICPA combined two divisions last year, we feared we might struggle to place in the top three again. When we learned we had nine individual winners, we thought we might have a shot at second or third. Winning top honors for the second time is a real tribute to the dedication of these young men turning in effort that is recognized as outstanding by professional journalists."
Senior editors Joel Bustamante and Alex Moseman led the way with four awards each. Bustamante earned a first place in entertainment column and best cartoon. He added two thirds. Moseman won a first place in best photo series along with three third places.
The contest is based on the calendar year featuring entries from spring and fall of 2010. Class of 2010 standouts Chuck Summers and Gary James contributed to the big win. Summers, the Bachelor's all-time most honored collegiate journalist, picked up two first places. James also won a first place.
"I'm especially excited that we could continue Pat McAlister and Gary James' award-winning legacy," Floyd said. "With four issues left, the staff would like to continue this momentum so that we can continue to produce great issues and have a similar result next year."

In photo: Joel Bustamante, Riley Floyd, news writer Gabe Watson, Alex Moseman
Bachelor Awards:
Staff:
3rd - Cavelife, Joel Bustamante, editor
1st - Special issue, Welcome Back Section
Opinion:
3rd - Riley Floyd, "Enabling the Problem"
Judges comment: "I've read dozens of college drinking edits. Yours is the first to hold upperclassmen accountable."
Feature Story:
1st - Wyatt Lewis and Kenny Farris, "On Friendship"
Entertainment story:
1st - Gary James, Quite the Tale"
Sports news:
2nd - Kyle Bender, "Tourney honors Dreher Family"
3rd - Brandan Alford, "Bell Game Blowout"
Sports Feature:
1st - Kyle Bender, "Running Off The Beaten Path" - story on Sam Starbuck '12"
Sports Column:
1st - Chuck Summers, "Colts' Cool Calculations
Entertainment column:
1st - Joel Bustamante, "What to be for Halloween"
Front Page Design:
2nd - Staff, Sept. 10
Feature Page:
3rd - Joel Bustamante
Judges Comment: "Very strong layout. Writing is smart and snappy."
Sports Page:
1st - Chuck Summers, Nov. 29
Special Section or Front Cover Design:
2nd - Staff, The Bastard
Sports Photo:
3rd - Alex Moseman, "DePauw Emasculated, 47-0"
Feature Photo:
3rd - Drew Casey, "Girl Talk"
Photo Essay:
1st - Alex Moseman, "El Salvador"
Judges comment: "Excellent job telling your story through multiple focal lengths and styles. The subject matter is not what made these photos interesting. Your portrayal of it tells the story."
3rd - Alex Moseman, "Bell Game"
News Photo:
1st - Grant McCloskey, "Chapel Sing"
Illustration:
3rd - Alex Moseman, "Smith attorney files complaint"
Editorial Cartoon:
1st - Joel Bustamante, "I've got you covered"
Judges comment: "A classic cartoon treatment of a national topic. Clear caricatures and few words make this most powerful of the bunch."
Division III Newspaper of the Year:
The Bachelor, Wabash College 44 points
The Record, Goshen College, 32 points
The DePauw, 30 points