Peck Winner Urges Students to Act
by Howard Hewitt • March 29, 2011

Share:
Bryan Stevenson heaped praise on Wabash for promoting ideals and citizenship while the College honored his career in legal services for the poor and people of color. Stevenson was honored Tuesday night with the David W. Peck Senior Medal for Eminence in the Law.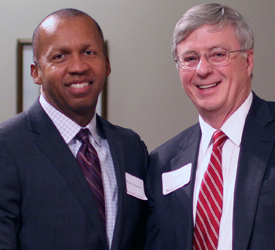 "My grandmother told me I'd be judged by 'the company you keep' and tonight I think she'd be very happy that I'm in the company of David Kendall and all of these accomplished attorneys and students," Stevenson said after President Patrick White presented the medal. "This is really a wonderful place out here in the middle of Indiana."
"I've been impressed to see the dedication and loyalty of all the people I've met at Wabash College. It is exciting to be at a place where people are talking about principles. You look at the names of these awards and the people they are named after and they were people of high principles."
Stevenson is Executive Director of the
Equal Justice Initiative
. He has reduced or overturned death sentences in more than 65 cases where poor people or people of color were unconstitutionally convicted or sentenced.
See photos from the evening's program
here
.
During a public lecture earlier in the evening and during his acceptance remarks, Stevenson urged everyone, and particularly students, to act on the beliefs in their hearts.
"I really do believe of all the things you learn, of all the things you do, of all the things you say, lawyer or non-lawyer … you can say 'I'm here' when there is injustice."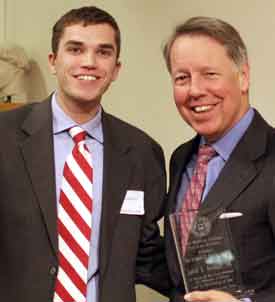 David Kendall '66 was instrumental in bringing Stevenson to campus and was honored by the Pre-Law Society with the Richard O. Ristine Law Award.
His advice to all of the future lawyers was to think hard about a career in law before heading off to law school. "Look before you leap," Kendall began. "You have to give three years of your life and you're going to commit a lot of money. A lot of people think going to law school is a good idea and a good thing to do. Don't be that way!"
Kendall said some of his most meaningful memories are similar to the work done by the Peck Medal winner. "Always have time for pro bono work," he told the young future lawyers. "You're likely to value those cases and remember them more than all the others.
Six Wabash students were honored for their academic pre-law careers at Wabash. Scott Himsel '85 presented the Junior Peck Medal to Grant Schmutte '11. Matt Price '90 presented the James E. Bingham Award to Michael Nossett' 11 and Graham Youngs '11. William Harrington '85 presented Jake German '11 with the William Nelson White Scholarship Award. David Herzog '77 presented the Joseph J. Daniels Award in Constitutional Law to Riley Floyd '13 and Michael Carper '12.
Earlier in the evening Stevenson held the attention of the audience in a packed Lovell Lecture Room with stories of his legal practice and the influences on his life growing up in the Deep South.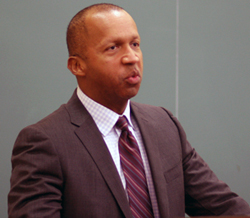 "I believe to create justice, to protect freedom, you have to be willing to create identity. You have to be willing to say something when threats emerge. You sometimes have to say things when everyone else is quiet."
He noted that his work has been standing by people "who are condemned, hated and despised. But our criminal justice system treats you better if you are rich and guilty than if you're poor and innocent."
He talked about the staggering number of African American males incarcerated across the country. And he turned to the 2,500 juveniles sentenced to life in prison across the U.S.
"It becomes necessary to say something about it," he repeated throughout his talk. "What is in your heart is relevant in achieving justice."
Stevenson passionately talked about defending children too young to understand the acts they had committed. "I don't understand how a judge has the ability to change these kids into an adult," he said.
He challenged the future lawyers, doctors, teachers and all in the lecture room to 'be motivated by not what just what is in our heart and head. You have to be brave. Your work has to be animated by what's in your heart."