Moton Top Wabash Finisher at Hanover Invitational
by Brent Harris • March 27, 2011

Share:
Luke Moton shot a two-day total of 159 in the first golf tournament of the spring 2011 season. The Little Giant team finished eighth out of nine squads at the Hanover Invitational, held at Shadowood Golf Club in Seymour, Indiana.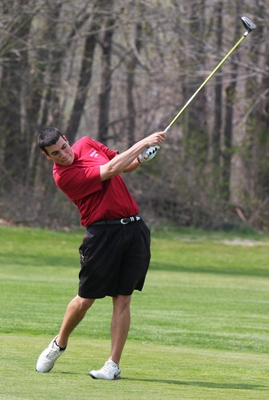 Moton (left) shot a 79 on Saturday, followed by an 80 on Sunday once over an inch of snow that fell over Saturday evening was cleared from the course. He finished tied for 21st in a field of 70 players. Ben Foster, playing as an individual, shot a 162 (79-83) to finish 34th overall. Drew Palmer (83-81--164) finished 38th as an individual player.
Seth Hensley was the next highest finisher for the Wabash team, tying for 39th place with a total of 165 strokes (82-83). Jake German bounced back with a 78 on Sunday after shooting a 91 in the first round to tie for 45th with a total of 169. Michael Piggins finished with a 170 (88-82) to tie for 47th place to complete the team scoring for the Little Giants.
Wabash shot a total of 662 (339-323) for the tournament.
Game Stats