Wabash Splits NCAC Series With Wooster
by Brent Harris • March 26, 2011

Share:
Chris Deig delivered an RBI single in the fifth inning while Andrew Swart held Wooster to three hits in a 5-2 Wabash win in game one Saturday. Wooster picked up a 5-1 win in game two of the North Coast Athletic Conference baseball series between the two teams.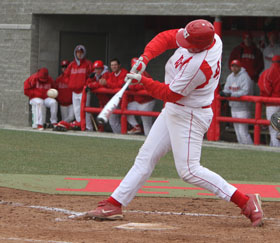 Wabash trailed Wooster 2-0 through 2-1/2 innings before John Holm blasted his third home run of the season, connecting on an inside fastball off Wooster starter Justin McDowell (3-1). Brian Lares had led off the inning with a single, giving Holm two RBI on the play and tying the game at 2-2. McDowell retired the first two batters in the fifth inning before the Little Giants would mount a rally.
Holm drew a walk, followed by a hit batsman with Tanner Coggins at the plate. Deig smacked a single through the left side of the Wooster infield to score Holm, giving Wabash a 3-2 lead. Montana Timmons hit another single to left that was misplayed by the Scots' fielder, bringing home both Coggins and Deig with two more insurance runs for a 5-2 lead.
That would be all Swart would need. The junior righthander settled into a groove after giving up a run in the second and solo home run to Michael Wellstead to lead off the third. Swart pitched all seven innings for his second complete game victory of the season. He allowed just one earned run to go with three hits and three walks for the Scots. Swart struck out a season-high nine batters to improve to 3-2 for the year.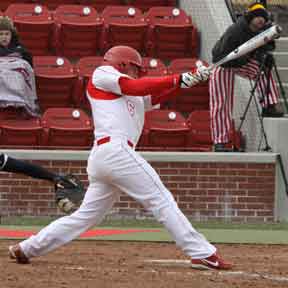 The Little Giants spaced out their five hits evenly against McDowell from Lares, Holm, Deig, Timmons, and PJ Tyson.
Wabash starter Brian Van Duyn and Scots' pitcher Matt Barnes (2-0) were locked in a pitcher's dual in game two before Wooster scored two runs in the fourth. The Little Giants answered with a run in the bottom half of the inning on another RBI single by Deig to score Pennington after the Wabash shortstop started the inning with a walk. Wooster (9-8, 3-1 NCAC) answered with a run in the sixth inning and two more in the seventh for the eventual win. Tyler Fugate pitched three innings of relief for Wooster to earn his first save of the year.
Van Duyn worked 6-1/3 innings, falling to 1-2 overall while limiting Wooster to five hits and three walks. He was charged with four runs with three earned. Van Duyn struck out five batters. Freshman Nate Adams pitched the final 2/3 inning, giving up two hits and one earned run.
Holm, Coggins, Deig, and Timmons each had hits in game two.
Wabash (8-13, 1-1 NCAC) returns to conference action on Sunday afternoon with two seven-inning games against Wittenberg University. The Tigers picked up two wins on Saturday afternoon over Allegheny (9-5, 4-2) to improve to 11-7 overall and 2-0 in league play. The first pitch at Wabash Ballpark is set for 1 p.m.
Photos - (top right) John Holm blasts the game-tying home run in game one between Wabash and Wooster. The Little Giants went on to defeat Wooster 5-2 in the series opener. Photo by Nancy Coggins.
(Bottom left) Chris Deig's RBI single gave Wabash the eventual game-winning run in game one. Photo by Jim Amidon.