Little Giants Split Sunday Games with Wilmington
by Brent Harris • March 20, 2011

Share:
Wabash took three out of four games in its weekend baseball series against Wilmington College. The Little Giants won Sunday's first game 11-5 before falling in extra innings 10-8. Wabash won both of Saturday's games against the Quakers.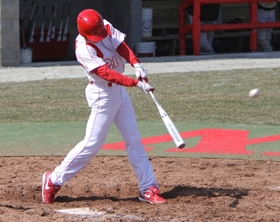 The hits continued in game one for the Little Giants at the brand new Wabash Ballpark. The team produced 16 total hits in the first game Sunday, starting with five in the first inning to score four runs. After two quick outs, John Holm opened up the hit parade with a double to center. He scored on a Montana Timmons single to right field. Timmons
(left)
moved to second on a single by Chris Deig, then scored on a single by Tanner Coggins. David Seibel brought home two more runs with a bases clearing double.
The Quakers tied the game with four runs of their own in the second. Wabash added two more runs in the second to retake the lead when John Pennington launched a two-run homer — his first of the season. Joe Johnson and Craig Shipley both singled in the third inning just before Brian Lares hit his first homer of the season to drive in three runs and blow the game open for Wabash with a 9-4 lead.
Wilmington and Wabash traded runs in the fourth. The Little Giants scored when Coggins doubled with two outs, then scored on a RBI single by Seibel. Seibel added another RBI with a sacrifice fly to score Deig in the sixth inning.
Sophomore Chris Widup earned the victory for Wabash to move to 2-3 for the season. He worked five innings as the starter. He scattered 11 hits and gave up five runs with two walks and two strikeouts. Luke Holm pitched the final two innings, throwing just 18 pitches to six batters. He had one strikeout and hit one batter.
Wabash fell behind early in game two, trailing 1-0 after the first and 4-0 through 3-1/2 innings. The Little Giants rallied for two runs in the bottom of the fourth on a solo homer by Timmons and an RBI single by PJ Tyson. After trading runs in the fifth inning thank to an RBI single by Timmons, Wabash tied the game with two more in the sixth. Joe Johnson singled home Seibel after the senior reached on a double. Holm singled home another run to even the score at 5-5.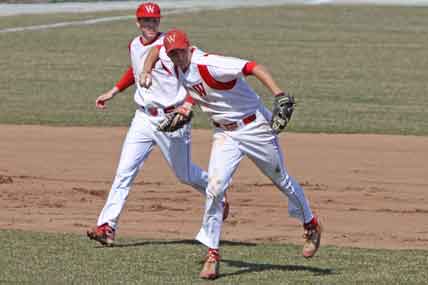 Wilmington (4-7) exploded for three more runs in the seventh, but Wabash rallied for three of its own in the bottom half of the inning. A two-run double by Seibel
(right)
and an RBI single by Lares forced extra innings, but the Quakers did all the scoring damage with two runs in the eighth. Wabash put two runners on base in the bottom of the eighth, but could not bring the tying run home.
Eric Foust took the loss, giving up one run in 2/3 of an inning. Luke Zinsmaster started the game, working five innings with five runs scoring on a nine hits. He walked one and struck out one. Nate Adams threw 1-1/3 innings of relief with two hits and three runs allowed. He walked two and posted two strikeouts. JT Miller and Luke Holm each worked a portion of the extra inning. Holm gave up one hit, while Miller surrendered one run on a walk and wild pitch.
Seibel finished the day with six total RBI, giving him a team-best 26 through 17 games. He had four hits total in two games, as did Timmons and Coggins.
Wabash (6-11) heads into a busy week of baseball over the next seven days. The Little Giants play host to Dominican University on Tuesday afternoon at Wabash Ballpark, then travel to Purdue University on Wednesday afternoon. Wabash opens North Coast Athletic Conference play on Saturday when the College of Wooster travels to Crawfordsville for two seven-inning games. Wittenberg will come to Crawfordsville for two NCAC games on Sunday afternoon.