David Romano to Present Second Charles Lecture
• March 17, 2011

Share:
Dr. David Romano, Professor of Classical Studies at the University of Pennsylvania, will present the second-annual John F. Charles lecture Monday. Romano, also Director of Greek Archaeological Projects in the Mediterranean Section of the Penn Museum, will present a talk titled: "Altars of Zeus, Games for the Gods: Liaison and Olympia in Early Greek Religion.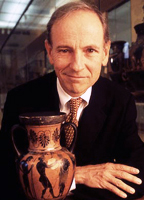 Romano will speak at 8 p.m. Monday in the Korb Classroom at the Fine Arts Building.
Romano studied Art and Archaeology at Washington University at St. Louis. He earned his M.A. in physical education at the University of Oregon. He then studied Classical Archaeology and earned his Ph.D. at the University of Pennsylvania.
His interests range from Greek and Roman city and landscape planning to the Ancient Olympic Games.
The John F. Charles Memorial Lecture was established by one of Professor Charles' former students, Bruce Baker '65. Baker funded the lecture out of his admiration for and love of his world history teacher. Professor Charles taught on the faculty of the College from 1940 through 1980 and was esteemed as a scholar and teacher, on campus and among his academic peers.