Singles Dominates in 8-1 Tennis Win over Rose
by Brent Harris • March 16, 2011

Share:
Wabash swept all six singles matches Wednesday in the Little Giants' 8-1 home court victory over Rose-Hulman.
View photos from the match here.
Rose took the opening doubles match 8-6 before Peter Gunderman and Ricky Ritter countered with an 8-4 victory at number two doubles. Ian Leonard and Evan Bayless combined for a 9-8 (4) victory at number three doubles.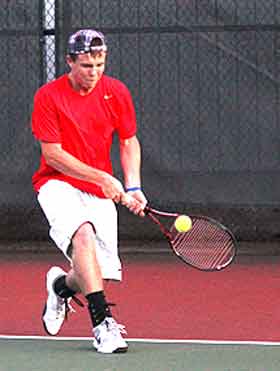 Wabash then took control of the match, starting with a come-from-behind win by Gunderman at number one single. The Wabash junior was shut out in the opening set, losing 6-0, then rallied for a 6-0 win in the second. He followed with a 7-5 victory in the final set to take the win.

Daniel Delgado needed three sets to take the victory at number two singles. He won the first set 6-1, then lost 6-7 (5) in the second set before scoring a 7-5 win.

Zach Lowry took a 6-4, 6-2 win at number three singles. Wade Miller (left) cruised to a 6-1, 6-0 win in the fourth flight of singles play, while Ritter took a 6-0, 6-2 win at fifth singles. Leonard was a 6-2, 6-3 victor at sixth singles.

"When I scheduled this match against Rose-Hulman, I didn't think there was any way we would be outside yet," Head Coach Jason Hutchison said. "The fact that we just came off a week of playing outdoors during our spring break trip to Puerto Rico really helped prepare us to play most of this match against Rose outdoors. That got us off to a good start, and we just finished well when the match moved inside.

"Our singles play has really started to step up more than our doubles play recently. The first part of the season our doubles was solid — not that it's really faltered now but it's not where it needs to be. Our singles play as you can see by the scores was just lights out tonight."

Wabash improves to 10-4 with the victory, while Rose is even on the season at 4-4. The Little Giants travel to the Chicago-land area this weekend for a pair of matches. Wabash will play at Elmhurst College on Friday evening before taking on Lake Forest College on Saturday.




Results: Wabash 8, Rose-Hulman 1 Game Stats