Wabash Picks Up Win Over Minnesota State
by Brent Harris • March 8, 2011

Share: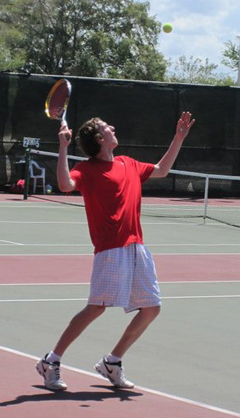 The Little Giant tennis team scored a 7-2 win over Minnesota State - Mankato Tuesday afternoon in Puerto Rico. The victory moves Wabash to 9-2 for the season.
The match opened with singles play, with Wabash taking early control of the competition. Peter Gunderman started with a straight-sets 6-2, 6-0 win over Marco Vazquez at number one singles. Zach Lowry followed with a 6-1, 6-3 win in the third flight, while Wade Miller scored a 6-2, 6-0 win in the fourth flight. Ricky Ritter rallied for a 5-7, 6-1, 6-1 win at number five singles. Ian Leonard guaranteed Wabash the win with his 6-3, 6-1 win at number six singles.
The Little Giants took two of three matches in doubles play. Ritter and Gunderman combined for an 8-5 win at number two doubles. Leonard and Evan Bayless earned the second doubles win with an 8-2 victory in the third flight.
Wabash continues its spring break trip with another match Wednesday afternoon against the Division I program from the University of Connecticut.
Game Stats