Morgan, Staff Share NCAC Honor
by Brent Harris • March 5, 2011

Share:
The award will have Clyde Morgan's name on it, but the head track and field coach for the Little Giant program is more than willing to share the 2011 North Coast Athletic Conference Men's Indoor Track and Field Coach of the Year Award with his staff.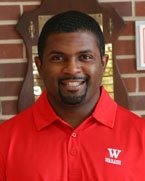 "We've accomplished this success of winning the NCAC Indoor Championship as a team, and that includes the coaching staff," Morgan (left) said. "It started a week ago when Coach (Steve) Rogers and Coach (Steve) House took our three pentathlon athletes to Oberlin to compete and score the first team points for us. Coach (Roger) Busch has done great work with our distance runners from cross country season straight into track season.
"We knew in our recruiting that the pole vault would be one of our strengths with our young athletes, and the work Coach (Horace) Turner has done with them is outstanding. We also have a legendary coach like Coach (Rob) Johnson continue to provide his instruction and expertise for our athletes."
The NCAC Indoor Coach of the Year Award is the first for Morgan and his staff. Wabash claimed its first conference title at the 2011 indoor championship meet at Oberlin. Twenty-three of Morgan's athletes came home with all-conference honors, while senior Matt Scheller was named the NCAC Men's Most Outstanding Field Athlete. Scheller won the shot put and weight throw, setting a new school record with his winning mark in the shot put.