Haidari Returns, Talks to Students
by Jim Amidon • March 4, 2011

Share:
As a young teenager working to support his family, Ashraf Haidari '01 dreamed of getting an education. When factional infighting broke out in Kabul, he fled to northern Afghanistan and eventually made his way to Wabash. Now, 15 years later, he's preparing to return to his home country for reassignment within the ministry of foreign affairs.
Haidari visited his alma mater as a guest of the Lecture Committee, giving several public talks and sitting in on classes focusing on civil liberties in wartime and Islam.
Haidari told Wabash students about his own experiences on the streets of Kabul; how he taught himself high school classes using old books and magazines, all the while trying to memorize an Oxford English dictionary. He got a job working for the United Nations in in Mazer-e-Sharif, and after overcoming serious visa issues in Pakistan, made his way to Wabash.
He majored in political science with an area of concentration in international studies. He studied the root causes of extremism and terrorism in the United States and Switzerland.
He's spent the last six years working his way up through the Embassy of Afghanistan in Washington, having served in various senior positions of complex responsibility: first secretary, political counselor, and most recently charge d'affaires. He's soon going to return to Kabul, where he will be reassigned in the ministry of foreign affairs.
Political Science Professor Scott Himsel welcomed Haidari's comments in his course on civil liberties in wartime. The class had studied the 9/11 report and FISA warrants, while trying to understand all of the intelligence gaffes that allowed the worst terrorist attack ever to occur on American soil.
"There were signs, there were warnings very early on," Haidari said. "Al Qaeda was getting stronger and already launching attacks against the United States' assets and interests. There was ample intelligence about Al Qaeda operating in Afghanistan years before, but if you will recall, that was during the time when Monica Lewinski was dominating the news."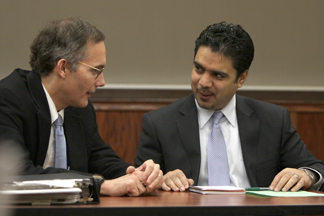 While Professor Himsel's class is focusing on what went wrong and how the CIA, NSA, and FBI failed to "connect the dots," having Haidari in class helped the students better understand the root causes of terrorism in the first place.
"You're talking about a large portion of the population, gangs of 14-18 year-old young men who are illiterate, poor, have no job prospects, and are supporting large families," he said. "Those in Pakistan have been brainwashed in extremist madrassas."
He said many of these young people have no food and no prospects, so when the Taliban promises a good wage, $10 a day — not to mention eternal peace and happiness in the 'land of milk and honey' — they listen. "Here in the U.S., if you fall behind, you get desperate and depressed and you feel lonely. Now multiply that by 1,000. In Afghanistan and Pakistan, if you're already having suicidal thoughts and someone promises you a lot of money for your family… you begin to see why these people do what they do."
Haidari pointed out that the huge majority of Afghan people embrace democracy; 83 percent are registered to vote. But when the promise of democracy goes unfulfilled, people lose faith.
"It's not that democracy isn't the best form of government," he said, "but it's a long-term process. You can't just have elections and say 'that's it.' You have to build up the institutions of democracy — government, education, rule of law, and human security needs."
He also reminded the students that while the international community is spending over $100 billion on military operations in Afghanistan, development priorities receive scant attention and resources, leaving some eight million people in need of humanitarian support. "It's not sustainable; it's a developmental problem," he said.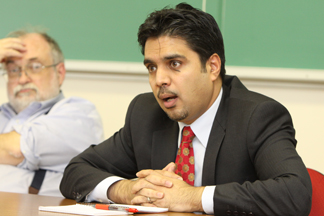 Later in Professor David Blix's class on Islam, Haidari paid tribute to the many faculty and staff who went out of their way to help him succeed. Because of the visa problems, he missed freshman orientation and the first two weeks of class.
"I didn't know how to write academically; I could do administrative writing, but that was it. I took religion and composition classes, and the papers were seven or eight pages, and I just had problems with them. I reached out to the faculty, who were very helpful and caring."
And with a nod to the professor in the room, Haidari noted, "The faculty put in a lot of effort to help me catch up." Then, to Professor Blix, "All while continuing to be a tough grader."
The students in the class are studying Islam. Haidari said the vast majority of Aghans are cultural Muslims who are born into Islam but don't know much about it.
"In Afghanistan, Islam is at the heart of Afghan identity; it's written into our constitution," he said. "But this is not the extremist, radical, or fundamentalist interpretation; moderate, traditional Islam is what is practiced."
He also credited Professor Blix with deepening his own faith. "I was born a Muslim, but it wasn't until after I came to Wabash and took four religion courses with Dr. Blix, that I came to discover what real Islam is and that did nothing more than strengthen my faith. I didn't know much about my religion until I studied here."
When students asked about the fundamentalist and Taliban interpretation, Haidari talked about the series of events that led to the Taliban systematically taking province after province in his home country. He told the students how some Taliban leaders previously fought in the Afghan jihad, which the CIA supported against Soviet forces in Afghanistan. "What do you do with the monster you've created," he asked. "Are you prepared to deal with the consequences?"
The kind of Islam practiced by the Taliban, he said, was completely foreign to most Afghans. "The Taliban tried to impose personal restrictions that Afghans found alien — the oppression of women; forcing people to pray in certain ways; the length of a man's beard. If you didn't follow these rules, you were beaten. For the people of Afghanistan, it was mere existence, not living. If you could afford it, you got out to Pakistan or Iran.
"The atrocities were happening right before our eyes."
The biggest point he made with the students was that the Taliban and other extremists have not only politicized the religion, which he said is based on kindness, mercy, and benevolence, but also hurt the worldwide image if Islam.
"The western media reinforces Islam-phobia, but does not dig deep into the actual causes of extremism. What you are seeing today in Libya, Egypt, and Tunisia is not politicized Islam, but simply frustration on the part of people because of the oppression of long-serving dictators.
"While I think people understand that democracy is good and there is great promise in democracy, it is a luxury that comes with pre-conditions," he said. "Democracy can only work when the institutions of democracy are in place — education, resources, and infrastructure."
Finally, he appealed to the students: "I appeal to you today to avoid as much as possible Muslim profiling and Muslim-phobia that is so common today."