Rhoads Earns Berth at Nationals
by Brent Harris • February 26, 2011

Share:
Greg Rhoads jumped in celebration after posting a 7-3 victory in the championship bout of the 184-pound weight class at Saturday's NCAA Division III Midwest Wrestling Regional. The victory gives Rhoads an automatic berth at the NCAA National Championship meet.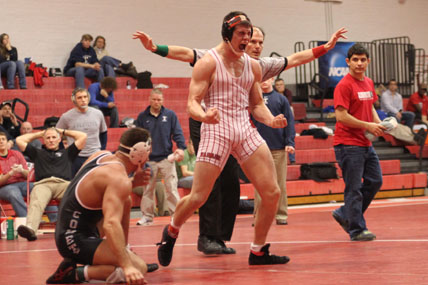 Rhoads (left) entered the weekend ranked 10th in the nation and was the favorite to win the title. He didn't disappoint, pinning his first opponent in 4:55 before scoring a 5-1 win in the semifinals. His 7-3 victory over two-seed James Neal from Olivet gave the Little Giants their only spot in the nationals field.
Austin O'Neal advanced to the finals of the 197-pound weight class with an 18-15 first round victory over third-seeded Robbie Mies from Washington and Jefferson. A 6-3 victory against second-seeded Sean Jameson from Mount St. Joseph put O'Neal (below right) up against top seed Alex Fleet from Trine. The pair battled for the entire championship match before Fleet came away with a one-point victory in the 4-3 final.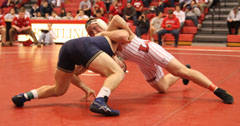 Junior Jake Moore overcame several injury stoppages throughout his final two matches, scoring a dramatic 10-8 win the championship semifinals in the final minute to advance to the title bout against top seed James Myers from Olivet at 165 pounds. Myers clipped Moore in a 3-2 final, preventing Moore (below left) from earning an automatic selection to the championship tournament. Moore will serve as one of three alternates.
Jake Strausbaugh will also be an alternate at 149 pounds. Wrestling in what was easily the toughest weight class in the tournament, Strausbaugh opened with a pin at 6:13 in his first match, but lost a close 4-2 decision to Manchester's Cameryn Brady in the semifinals. Strausbaugh rallied for two wins in the consolation bracket to take one of the alternate spots.
Josh Boyer posted a record of 2-1 at 125 pounds to claim third place overall. He picked up an 18-7 major decision in the finals. Marc Escobedo was third at 133 pounds with a record of 2-1. Garrett Payne was fourth at 141 pounds (2-2 overall), while Graham Youngs also added a fourth place finish with a record of 3-2 at 157 pounds..
Dalton Stanley took fourth place at 174 pounds by finishing 3-2 overall. Patrick Clegg added a fourth place finish at heavyweight with a record of 2-2.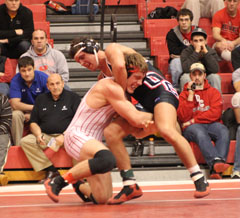 Wabash finished second in the team scoring with 144.5 points, trailing champion Olivet in first place with 155.5 points. Waynesburg was third (112.5), followed closely by Mount St. Joseph (111.5). Trine (95.5), Washington and Jefferson (88), Thiel (67.5), Manchester 53; and Case Western Reserve (38.5) rounded out the scoring.
Rhoads will prepare for the national championship meet, to be held March 11-12 at the La Crosse Center in La Crosse, Wisconsin.
Game Stats