Indoor Track & Field Enjoys Record-Setting Weekend
by Brent Harris • February 13, 2011

Share:
Matt Scheller and Sean Hildebrand each set new Wabash indoor track and field school records during a busy weekend of competition for the Little Giants. Jake Waterman and the distance medley relay team also set NCAA provisional national championship qualifying marks.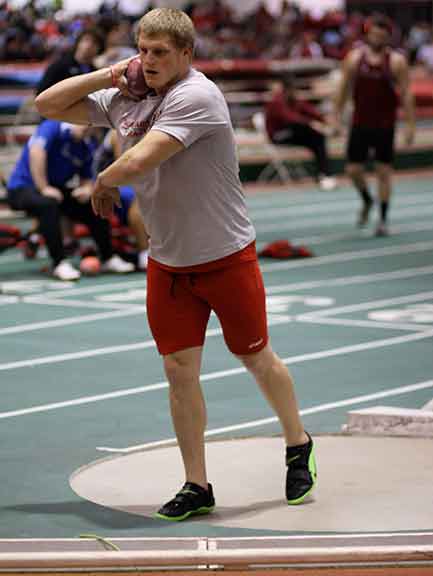 Scheller (left) topped his own two-year-old school record in the shot put with his effort on Friday night at the Hoosier Hills Invitational at Indiana University. The Wabash senior posted a mark of 14.50 meters (47 feet, 7 inches) to easily outdistance his old record of 14.14 meters (46 feet, 4.75 inches). Scheller's throw place him 11th in the final standings while competing against Division I scholarship athletes.
Hildebrand broke the year-old record in the 60-meter dash, finishing in 7.25 in his preliminary heat. That eclipsed the mark of Emmanuel Aouad of 7.38 set last season. Hildebrand's time was not quick enough to earn him a place in the finals against the highly-competitive field.
Seth Einterz and Justin Allen ran to top-five finishes in the 3,000-meter run. Einterz took second place with a time of 8:37.29, while Allen was fifth after crossing the finish line in 8:41.14.
The Little Giants' distance medley relay team of Donavan White, John Haley, Jake Waterman, and Kevin McCarthy combined for a time of 10:08.91 to win the event on Friday evening. That time is quick enough to earn a provisional qualifying spot at the upcoming NCAA Division III Indoor Track and Field National Championship meet.
Waterman and McCarthy returned on Saturday to compete in the 800-meter and mile runs. Waterman posted his own individual provisional qualifying mark for nationals by finishing with a time of 1:53.31 in the 800. McCarthy ran a 4:16.30 in the mile.
The bulk of the Wabash team competed in Saturday's DePauw Invitational in Greencastle, finishing in a tie for seventh in the overall standings out of 21 teams. Junior Donavan White posted the best finish for the Little Giant team, winning the 3,000-meter run with a time of 8:56.01. Teammate Corey McFarland took fourth place after finishing with a time of 9:15.00.
Freshman Charles Smothers and sophomore Vann Hunt earned spots in the finals of the 55-meter dash. Smothers finished second overall with a time of 6.61, while Hunt grabbed seventh place after running a 6.73. Sophomore Matt Knox took third in the pole vault, clearing 4.30 meters (14 feet, 1.25 inches). Joel Beier added a sixth-place finish in the shot put with a mark of 14.36 meters (47 feet, 1.50 inches).