Sluggish Start Gives Wabash Fifth Loss
by Brent Harris • February 12, 2011

Share:
A slow start to both halves proved to be too much for the Wabash basketball team to overcome Saturday afternoon. The 13th-ranked Little Giants lost 70-58 at home to Hiram College in North Coast Athletic Conference action Saturday afternoon.
View photos from the game here. Watch the replay of the game here.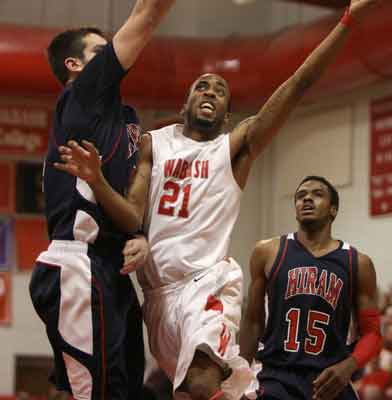 Wabash shot 11-of-27 in the opening period and 10-of-26 over the final 20 minutes to finish just 21-of-53 for 39.6 percent from the field for the game. Hiram hit 24-of-57 shot attempts for 42 percent shooting, but nailed 6-of-8 3-point tries in the final period to help earn the victory.
The Little Giants trailed 19-9 after the first 11 minutes of the ball game to the Terriers thanks to a 17-6 Hiram run after 3-2 earlier lead for the home team. Wabash eventually trailed by as many as 12 points before Wes Smith (right) and Derek Bailey began to bring the Little Giants back.
Smith hit a driving layup with 7:05 left in the first period to trim the lead to 10. Bailey (below left) followed with back-to-back treys before an Aaron Zinnerman long-range shot made it a 24-23 contest in favor of Hiram. Zinnerman tallied another three-ball with 3:47 left in the half, giving Wabash a 26-24 lead. The Little Giants would extend the advantage to five points before heading to the locker room with a 31-29 edge on the scoreboard.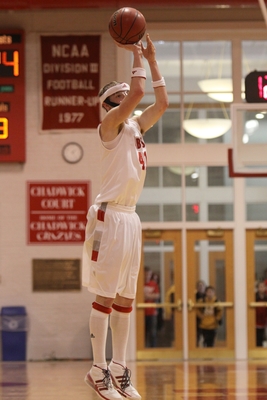 The Terriers tied the score early in the second half on two free throws prior to taking a three-point lead on a jumper outside the arc by Aaron Stefanov. The freshman proved to be too much for Wabash over the final 20 minutes, connecting on all five of his 3-point attempts on the way to a team-best 20 points for the Terriers. Chris Roberts gave Hiram a five-point lead on a layup before Smith tied the score with two layups and a free throw at the 17:13 mark of the final period.

Hiram took over from that point. The Terriers exploded for a 13-2 run over the next six minutes, with Stefanov and Andrew Wiegand providing most of the scoring from beyond the arc. Hiram would lead by as many as 16 points. Smith scored six of the next eight points for Wabash to draw the Little Giants to within eight. Jordan Surenkamp added a trey to make it a five-point contest with 3:30 left to play, but Hiram outscored Wabash 10-3 over the final few minutes to come away with the upset win.

Wabash struggled from the free throw line, adding to the problems for team on Saturday. The Little Giants hit 11-of-20 from the line in the losing effort. Both teams finished with 36 rebounds. Wabash committed 14 turnovers compared to 12 for the Terriers.

Smith led both teams in scoring with 25 points. Bailey added 10, scoring all of his points in the first half of the game. Jamall Watkins tossed in 12 points for Hiram (12-11, 6-8 NCAC), while Chris Roberts --- the Terriers' leading scorer coming into the contest --- added 11.

The loss drops Wabash to 17-5 for the season and 9-5 in the NCAC. The Little Giants return to action at home Wednesday evening for a 7:30 p.m. contest against 25th-ranked Wittenberg.




Results: Hiram 70, Wabash 58 Game Stats