Rhinesmith's Success Continues at NCAC Meet
by Brent Harris • February 11, 2011

Share: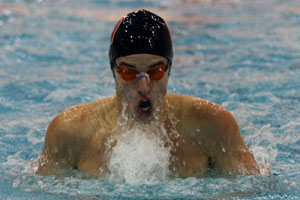 Less than 24 hours after setting a new school record in the 200-yard individual medley, senior Evan Rhinesmith (left) posted one of the top times in the preliminary round of the 100 breaststroke Friday at the 2011 North Coast Athletic Conference Swimming and Diving Championships.
Rhinesmith's time of 57.50 tied that of Lars Matkin of Kenyon. Both topped the NCAA "B" cut time of 57.81, giving both swimmers a chance to compete at the national championship meet next month.
Paul Buescher will join Rhinesmith in the A final tonight in the 100 breaststroke after posting a season-best time of 59.35 to finish eighth in the prelim standings. David Birrer (below right) will also compete in the A final of the 100-yard butterfly after turning in the eighth-best preliminary time Friday morning of 51.53. Eric Vaughn also earned a place in the evening finals in the 100 fly, finishing 13th with a time of 54.10.
Logan Rice was 14th in the 400-yard individual medley, advancing to the evening finals. Joining him will be Adam Barnes, who was 19th with a time of 4:27.84, and Brad Wise with his 24th-place finishing time of 4:32.86.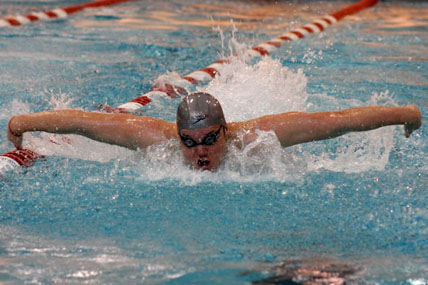 Three Little Giant swimmers will compete in the finals of the 200-yard freestyle. Charles Williams was 14th in the prelims with a time of 1:45.93. Chad Woods took 18th place by finishing in 1:49.25, and Alex Beck was 23rd with a time of 1:50.12. Logan Falley just missed a chance to compete in the evening session, finishing tied for 24th with Wittenberg's Chris Culkin. Culkin earned the final spot in a swimoff.
Adam Current and Vaughn each earned a finals spot in the 100-yard backstroke. Current was 18th in the prelims with a time of 55.32, while Vaughn finished 24th (1:00.02).
The Wabash 200-yard medley relay team of David Phillips, Buescher, Current, and Rhinesmith will also compete in the finals Friday night after finishing fifth in the prelims with a time of 1:40.29.
Competition at the 27th annual conference championship is being held at the CT Branin Natatorium in Caton, Ohio, and continues through Saturday.
Game Stats