Key Three-Game Stretch Starts Saturday
by Brent Harris • February 11, 2011

Share: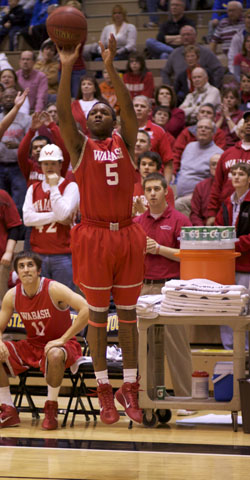 Three games remain on the regular season schedule for the Wabash basketball team, and all three will determine the Little Giants' path in the upcoming North Coast Athletic Conference tournament. The three-game home series starts Saturday at 1 p.m. against Hiram.
Wabash is coming off a thrilling 69-68 overtime win at previously unbeaten Wooster to keep the team in the hunt for one of the top spots in the final regular season conference standings.
The Little Giants have already clinched a home court game in the first round of the NCAC tournament on Tuesday, February 22, but their opponent will be determined by those final standings. The top-eight teams make the tournament field, with the top-four teams earning home games.
Despite the upcoming tournament, the Little Giants' focus is squarely set on their Saturday opponent — Hiram.
"We got back to playing Wabash basketball last Saturday against Wooster," junior guard Aaron Zinnerman said. "It's important that we keep playing our style of basketball throughout these last three home games. Coach Petty always tells us the most important game is the next game. We have to put the excitement of the Wooster win behind us, but remember how we played to earn that win."
Zinnerman was a key for that Wabash victory, leading the team with a career-best 17 points. Nick Curosh added 13 points on 6-of-7 shooting on the interior. Wes Smith dished out five assists and accounted for five of the Little Giants' 14 steals in the contest — none bigger than a steal to salt away the victory.
"Saturday was important on a lot of different levels," Smith said. "Obviously we needed the victory to make certain we didn't lose any ground in the conference standings. We are also kind of tired of hearing that we're a one-man team. I wasn't scoring, but I tried to help out defensively. That balanced scoring from Saturday's game should give us confidence to finish the season with a strong effort."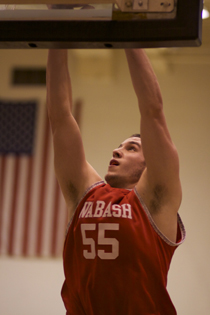 "Wooster really keyed on Wes," Curosh said. "It was big for us to get contributions from AZ and (Derek) Bailey. That shows other teams what we already knew — that we're not just a one-faceted team centered on Wes. We can pick up the scoring in other areas, and Wes can make an impact in ways other than just his scoring. I think accomplishing that on Saturday gave us a real confidence boost."
Bailey was key figure for the Little Giants in the overtime session. He gave Wabash a five-point lead by scoring on a reverse layup and a 3-point basket over the first few minutes of overtime, accounting for the only points for the team in the extra session.
"Hiram is a great team and they are playing very well heading into this game Saturday," Bailey said. "Having this full week to prepare for them and recover from the Wooster game has let us go hard in practice and work hard as a team."
After Saturday's home contest against Hiram, the Little Giants will face NCAC co-leader Wittenberg in an 8 p.m. game at Chadwick Court on Wednesday.
The regular season comes to an end on Saturday, February 19 with a 1 p.m. tipoff against Oberlin. Wabash fans will honor the five senior members of the 2010-11 team prior to the game. A celebration of Head Coach Mac Petty, who announced his retirement earlier this week after 35 years at Wabash, will take place at the conclusion of the game.
Photos - (top left) Aaron Zinnerman drilled four 3-pointers in Saturday's win at Wooster on the way to a career-best 17 points.
(Bottom right) Nick Curosh was nearly perfect from the field, scoring on six of his seven shot attempts.