Emmick '92 Shares View of Wabash from 4-Year-Old
by Howard Hewitt • February 10, 2011

Share:
Dean of Advancement Joe Emmick '92 used his Thursday morning Chapel Talk to share views of Wabash through the eyes of his 4-year-old son.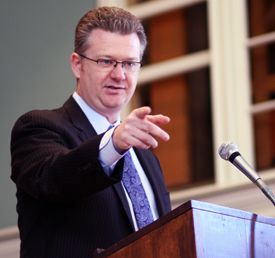 "Wabash boys, to him, are the coolest guys in the world," Emmick started. "You set the tone for the impression of our College. You are role models. Imagine the impression you make at football games or the impression you make sitting on the front porch of your fraternity house."
Emmick encouraged the Wabash students to remember Wabash is a place to work hard and play hard. And to remember lots of eyes are watching their actions, including very young eyes.
Four-year-old Will Emmick has fashioned a catch-all phrase to sometimes explain away his words and actions. 'Daddy, Wabash boys do-s that." Imagine the do-s pronounced singular with an 's' added.
Emmick reflected on his time at Wabash as a Lambda Chi simply participating in many activities to benefit the community or youth as an obligation to his house brothers. He lauded current students for, perhaps,a more mature attitude toward philanthropic work.
He peppered his talk with examples - some good and bad - of things his son had seen or heard at Wabash with "Wabash boys do-s that" as the explanation to make it all go away.
After concluding his prepared remarks, Emmick took the time to talk briefly about William Placher and his place in Wabash College history. He saluted Tom Bambrey as a great mentor when Emmick was named Dean. And, called retiring basketball coach Mac Petty one of the greatest gentlemen to grace campus.
See Emmicks entire Chapel Talk in the video below.
video platform video management video solutions video player {SEO}