Wabash Wins in OT at Wooster
by Brent Harris • February 5, 2011

Share: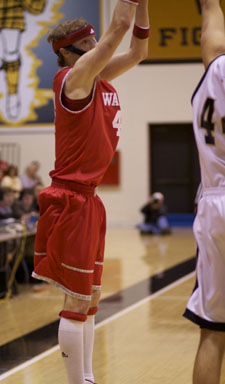 Derek Bailey's five points in overtime proved to be more than enough to help Wabash College knock off the undefeated and top-ranked College of Wooster Fighting Scots 69-68 in overtime Saturday afternoon.
View photos from the Little Giants' victory here and here.
Bailey (left) hit a reverse layup to give Wabash, ranked 15th in this week's D3hoops.com poll prior to a three-point loss Thursday evening at Denison, a two-point lead after the 64-64 tie score at the end of the regulation. His 3-pointer two minutes later put the Little Giants up five and secured the eventual road victory.
Aaron Zinnerman (below right) provided a key boost for Wabash in the second half, helping erase a three-point Wooster (20-1, 11-1 North Coast Athletic Conference) halftime lead. The junior guard, who finished with a career-high 17 points, drilled three treys in the first four minutes of the second period. Zinnerman's third long-range shot broke a 39-39 tie and gave Wabash a lead it would hold for 14 more minutes.
Wooster's Ian Franks kept the Scots in the game after the Little Giants stretched their lead to seven points. Held quiet for much of the game by Wabash defender Brian Shelbourne, Franks scored four points in the final five minutes of regulation, eventually giving Wooster a 63-62 lead with 1:01 remaining in the second period.
Bryan Wickliffe, who led Wooster with 25 points on a strong performance in the paint, hit one of two free throw attempts with 29 seconds on the clock. A foul on the Scots at the other end of the floor sent Wes Smtih to the line for Wabash. His two free throws tied the game to force the overtime.
Bailey's two baskets put Wabash up 69-64 before two free throws and a basket by Wickliffe trimmed the lead to one point. Wooster and Wabash both missed shot attempts with less than a minute to play, with the Scots grabbing the final rebound to set up for one last winning chance.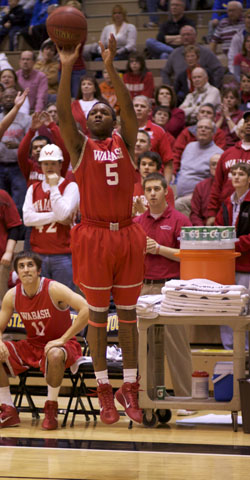 Wooster looked to Franks for the final attempt, but Smith stepped in and stole the basketball with two seconds left to play, knocking it to Nick Curosh. The Wabash forward tossed the ball into the Little Giants' offensive end of the floor as the buzzer sounded, completing the upset victory.

The win snapped a three-game road losing streak for Wabash (17-4, 9-4 NCAC), and gives the Little Giants victories over the number-one and number two-ranked teams in the nation this season.

Bailey and Curosh each finished with 13 points while Smith tossed in 11. The Little Giants shot 43 percent from the field compared to 54 percent for the Scots, but outshot Wooster from beyond the arc. Wabash connected on eight 3-point attempts, while Wooster was held to 3-of-10 shooting from 3-point range. The Wabash defense, led by Smith, Shelbourne, and Curosh, forced 20 Wooster turnovers. Smith grabbed five of the Little Giants' 14 steals.

Wabash returns to action Saturday afternoon with a home contest against Hiram College at 3 p.m.




Results: Wabash 69, Wooster 68 overtime Game Stats