Bambrey Announces Retirement as Athletics Director
by Brent Harris • February 2, 2011

Share: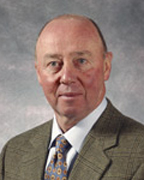 Dr. Thomas E. Bambrey, Wabash College Director of Athletics, has announced his plans to retire from that position at the end of the academic year.
Bambrey, a 1968 graduate of Wabash, was named athletics director in May of 2008 after serving for 11 years as his alma mater's Dean of Students.
"Throughout his life, Tom Bambrey has shown his love for and dedication to Wabash," President Patrick E. White said. "He has long been a diligent student of Wabash history and lore and has helped further the great Wabash traditions of student empowerment, the Gentleman's Rule, and the highest standards of athletic achievement.

"At his heart Tom is a teacher, and he has taught all of us what it means to be Wabash. In conversation, public presentation, leadership, action, and his way of being in the world, he has shown us the highest imagination of what Wabash has been and could be and has communicated that to colleagues, students, coaches, and faculty, not to mention your humble president. Tom Bambrey has been to me a most valuable coach and teacher of Wabash, and I will always be grateful for his guidance and friendship."
A native of Pennsylvania, he was a three-year letterman for Coach J. Owen Huntsman's track and field team when he was an undergraduate.
After teaching and coaching at Southmoreland High School in Western Pennsylvania, Bambrey earned a graduate fellowship at the University of Denver, where he earned his master's degree and Ph.D. in English Literature.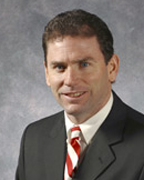 "Much of the credit for the current success of our athletics program, both on the field and in the classroom, can be traced to the staff Tom hired as dean of students and his subsequent leadership of that staff as athletics director, " current Dean of Students Mike Raters '85 said. "The love affair Tom has had with the College, from his first moments here as a student through today, is remarkable."
Wabash undertook two athletics facilities construction projects during Bambrey's tenure at the College. The Allen Athletics and Recreation Center building and renovation was dedicated in 2001. Shortly after Bambrey was named athletics director, Wabash began work on new baseball and soccer stadiums along with intramural and practice fields as part of a $6.2 million outdoor facilities renovation. That project will be completed this fall.
Bambrey currently serves as the sports liaison for North Coast Athletic Conference football coaches.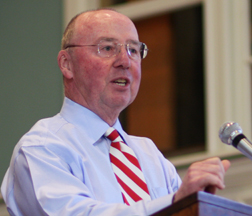 Bambrey was a professor and administrator at the University of Denver from 1976 through 1992. From 1984 through 1989 he served as Associate Dean of the College at Denver, and from 1989 through 1992 he served as Dean of Student Life and Director of the Honors Program.
Bambrey left Denver in 1993 to become Dean of Student Life and Co-Curricular Education at St. Lawrence University in New York, where he worked until his appointment as Dean of Students at Wabash College in 1997.
Bambrey will retire from the College on June 30, 2011. An immediate search will begin for his replacement.