Rhoads Takes Wheaton Invite Title
by Brent Harris • January 29, 2011

Share: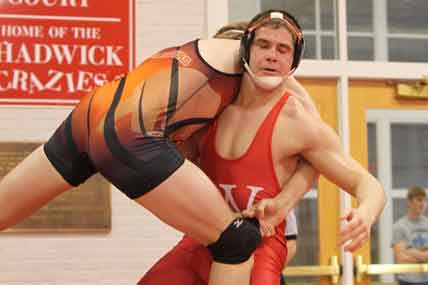 Junior wrestler Greg Rhoads captured the 184-pound weight class title at the 2011 Pete Willson-Wheaton College Invitational. Rhoads was one of five Wabash wrestlers to place in the top-eight places, helping the Little Giants finish 11th out of 32 teams at the two-day competition.
Rhoads entered the tournament seeded eighth in his weight class, but put together a perfect weekend to claim the title. He started with a 13-4 major decision over Wisconsin-Whitewater's Andrew Pettit, then scored an 8-2 win against Peter Heggs from Case Western Reserve. The victory put Rhoads up against the top-seeded wrestler in the bracket, Elmurst's Joe Rau. Rhoads forced the match into overtime, where he picked up a 6-4 sudden victory to advance in the championship bracket.
The junior wrestler started the second day of competition with an 11-4 win against fifth-seeded Tim Stewart from Messiah, then finished the meet with a tight 3-2 win against third-seeded Justin Marble from the host school in the championship bout.
Sophomore Jake Strausbaugh finished fifth at 149 pounds. Entering the tournament as the number-five seed, Strausbaugh started with an 11-6 win against Corey Duncan from eventual team champion Lindenwood University. A 12-8 win for Strausbaugh against fourth-seeded Matt Mauseth from Wisconsin-La Crosse sent the Wabash wrestler up against top-seeded Isaac Dukes from Case Western in the championship semifinals. A 15-3 loss against his regional foe dropped Strausbaugh to the consolation bracket, where lost 9-2 in the next round to seventh-seeded Cameryn Brady from Manchester before receiving a forfeit in the finals.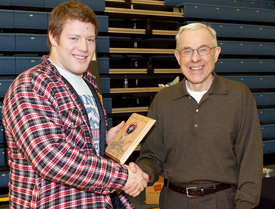 Three Little Giants finished in eighth place in their individual weight classes. Josh Boyer finished 2-3 at the 125 weight class, as did Jake Moore at 165 pounds. Austin O'Neil lost his opening match at 197 pounds before rallying for three consecutive victories. He finished the weekend 3-3 for his eight-place finish.
Sophomore Pat Clegg recorded the fastest pin of the tournament, scoring the victory :13 into his consolation bout against Thomas Phalin from Lakeland.
Wabash scored a total of 58 points. Lindenwood's total of 131 points won the team competition. The Little Giants will compete on Saturday, February 12 at the Midstates Wrestling Conference Championship Meet at Manchester College.
Photos - (top left) Junior Greg Rhoads earned the 184-pound weight class title at the 2011 Pete Willson Invitational, hosted by Wheaton College.
(Bottom right) Sophomore Pat Clegg receives the Fastest Pin Award from Wheaton alumnus Dr. Dick Geiser
Game Stats