Celebration Chance to See Student Work
by Howard Hewitt • January 28, 2011

Share:
Students want to do their best at the College's annual celebration of research, while faculty, trustees, and visitors get a taste of institution's academic rigor.
The 11th Annual Celebration of Student Research, Scholarship, and Creative Work features work from across the academic disciplines — presentations by freshmen through soon-to-be graduates. See additional photos here and here.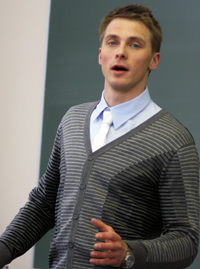 Students give 20-minute oral and 90-minute poster presentations, sometimes in collaboration with classmates or research partners, to the assembled audience.
The students admit they feel a little pressure to do well.
"The difference in the classroom is you know exactly who's going to be in the audience; whereas, here I think it's more exciting because you have guests from outside – trustees, donors, important people to the College," senior Filip Lempa said. "It motivates you to do well. You're selling your research every day in the classroom. But here you're also selling Wabash because they come and they want to see where their money is going. So I feel a lot more responsibility. It motivates me to do well." (Lempa, at right)
Lempa's presentation compared economic stimulus packages enacted by the U.S. government and China's government. He spent a semester and his summer of 2010 studying in China.
The Celebration also brings out much of the faculty. Many are present to host various rooms of presentations and others just to see student work. It's also a way for faculty members to look at academic work outside their discipline.
"I enjoy getting the opportunity to see what other stuff is going on around campus," Assistant Professor of Physics Martin Madsen said. "We have basically two opportunities a year for me to see what everybody else is doing. One is the Ides of August Faculty Colloquium at the end of summer and this one. The difference between this and Ides is really the student work, the real meat of what's happening on campus. So I like coming to see the range of exciting things in a variety of places I don't normally get exposure to.
"I like to see the breadth of different things happening from arts to religion, to the variety of the sciences and everything in between. I really like that open exposure to everything else happening on campus."
Students also are dismissed from afternoon classes to attend the Celebration.