Little Giants Finish Second at Servies Duals
by Brent Harris • January 22, 2011

Share:
A hard-fought championship bout between Wabash and Lincoln College ended with the Little Giants losing 23-15 to finish second at the 2011 Max Servies Wrestling Duals.
View photos from the Servies Duals here.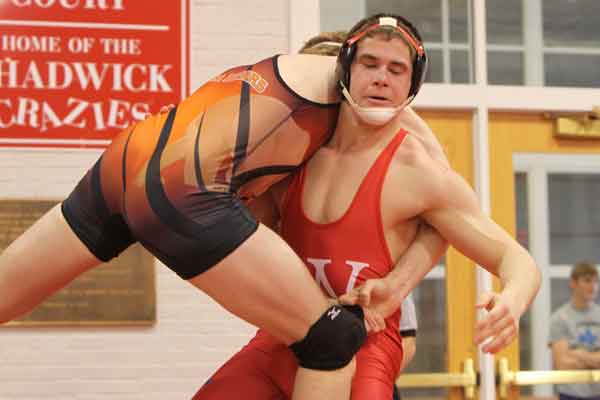 Lincoln jumped out to victories in the first two matches. Wabash wrestler Garrett Payne received a forfeit in his 141-pound weight class bout, followed by a victory by sophomore Jake Strausbaugh at 149 pounds. Graham Youngs scored another win for Wabash at 157 pounds. Junior Jake Moore fought to the final seconds of his 165-pound bout before scoring the final win in the dual contest against Lincoln. The Lynx picked up the final four wins to take home the championship title.
Wabash earned a place in the championship bout by scoring three early victories. The Little Giants opened with decisive 41-3 win against Ohio Northern. Josh Boyer, Marc Escobedo, Payne, Strausbaugh, and Youngs all scored victories in the match. Greg Rhoads (above left), Dalton Stanley, Austin O'Neal, and Pat Clegg were also individual winners for Wabash in the team victory.
A 46-3 win against Wilmington College gave Wabash a spot in the next round of duals. Boyer, Escobedo, Payne, Strausbaugh, Youngs, Moore, Rhoads, O'Neal, and Clegg were all individual victors.The Little Giants' third win came in a 28-12 contest against the Milwaukee School of Engineering. Boyer, Strausbaugh, Moore, Rhoads, O'Neal, and Clegg were joined by Drew Songer as individual winners for Wabash.
Game Stats