Grapplers Dominate in 33-9 Win Over Manchester
by Brent Harris • January 19, 2011

Share:
Wabash won eight of the ten wrestling matches in Wednesday night's 33-9 home victory over in-state rival Manchester College. The 28th-ranked Little Giants improved to 8-3 in duals this season with the win.
View photos from the Little Giants' victory here.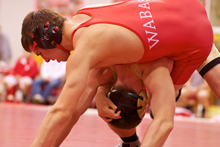 Josh Boyer started the scoring for Wabash by receiving a forfeit at 125 pounds. Garrett Payne added four more points to the Little Giants' score with a 10-3 major decision over Charles Holmquest at 141 pounds.
Jake Strausbaugh, a national qualifier in 2010, fought a tough battle against Manchester Cameryn Brady at 149 pounds. Brady scored a late takedown to tie the bout at 3-3, but Strausbaugh rallied for a takedown of his own in overtime to earn the 5-3 victory.
Graham Youngs followed with a 12-4 major decision at 157 pounds. Jake Moore received the second forfeit of the night, this time at 165 pounds to put Wabash in front comfortably at 23-3. Freshman Dalton Stanley needed a third-period take down to rally for a 5-3 win in his 174-pound bout against Ryan Monce from Manchester.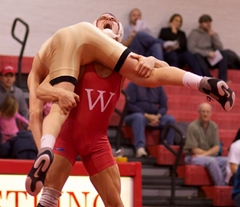 Greg Rhoads dominated the third period of his 184-pound contest against Chad Ulmer, scoring 10 of his 17 points in final two minutes on the way to a 17-4 major decision. Austin O'Neal closed out the scoring for the Little Giants in a tight 4-2 victory at 197 pounds.

The Little Giants and Manchester will both compete this Saturday at the Max Servies Duals, hosted by Wabash at Chadwick Court. Competition begins at 9 a.m.




Results: Wabash 33, Manchester 9