Wabash Falls in One-Point Loss at Witt
by Brent Harris • January 19, 2011

Share:
A 10-point first half and five-point halftime Wabash lead evaporated behind Wittenberg's second-half shooting Wednesday night. The Little Giants' late rally fell short in a 55-54 loss at Witt in North Coast Athletic Conference play.
The Tigers shot 12-of-23 from the field in the final period after Wabash held them to 9-of-28 in the opening half. The Little Giants never got untracked offensively from long range, shooting just 38 percent from the field overall (22-of-57) and 23 percent from beyond the arc (23 percent).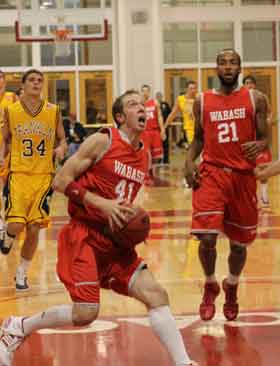 Wittenberg (12-4, 7-0 NCAC) erased the Little Giants' lead, eventually taking a seven-point advantage with five minutes left in the contest. Ben Burkett rallied Wabash with a jumper in the lane to cut the lead to 49-44. After a Tiger miss, Wes Smith drove into the lane from the right wing to score his 11th point of the game, trimming the lead to three points.
Nick Curosh, who opened the contest with four of the Little Giants' first seven points, tipped in a missed Aaron Zinnerman shot attempt with 2:56 remaining to get Wabash within a point. Seth Hill answered for Wittenberg with a basket at the other end, but Derek Bailey (left) responded with one of his two 3-point baskets to tie the game with 1:27 left.
Michael Cooper fired a jumper in the lane with one minute remaining to put Wittenberg back in front by two points. Wabash had two opportunities to try and tie the game in the closing minute. The Little Giants got a 3-point attempt from Zinnerman that bounced out, but Brian Shelbourne grabbed the offensive board, giving Wabash one final try. The Little Giants would fail to capitalize, committing one of their 13 turnovers in the final seconds of the game.
Wittenberg's Chris Sullivan drained two free throws before Smith connected on a desperation trey at the buzzer to produce the final score.
The free throw line proved key for the Tigers, hitting 8-of-10 attempts on the evening with none bigger than Sullivan's final two tosses. Wabash scored one more basket and one more 3-pointer than the Tigers, but were unable to get to the free throw line against Wittenberg's zone defense. The Little Giants did connect on four of their five free throw tries.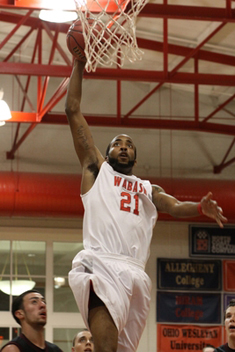 Smith (right) finished with 14 points, well below his 23.5 points-per-game average coming into the game. He added 10 rebounds to record his third double-double of the season. Bailey tossed in 10 points off the bench for the Little Giants.

Clayton Black had 14 points to pace the Tigers in scoring. Chris Sullivan added 13 points.

Wabash, ranked seventh in the nation in the D3hoops.com weekly poll, drops to 14-2 overall and 6-2 in the NCAC with the loss. The Little Giants only other defeat came in a 67-65 home game against number-one ranked Wooster. Wednesday's loss was also the first road loss of the season for the Little Giants, while Wittenberg improved to 8-0 at home this year.

The Little Giants travel to Oberlin College Saturday for a 1 p.m. NCAC contest against the Yeomen.




Results: Wittenberg 55, Wabash 54 Game Stats