Pynenberg Named to D3football.com All-Decade Team
by Brent Harris • January 14, 2011

Share:
Adi Pynenberg '08, the all-time leading tackler in Wabash College football history, has been named to the D3football.com All-Decade Team.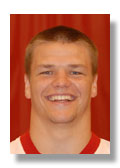 Pynenberg was named to the All-Decade Second Team at linebacker. He was a three-time All-America selection by D3football.com, earning First Team honors in 2007, Second Team in 2006, and an Honorable Mention selection in 2005. Pynenberg was named the North Coast Athletic Conference Defensive Player of the Year in 2006 and 2007 and received First Team All-Conference honors in 2005, 2006, and 2007. He was also one of ten finalist for the 2007 Gagliardi Trophy, named for Saint John's University head football coach John Gagliardi and presented to the outstanding football player in NCAA Division III, honors excellence in athletics, academics, and community service.
A starter in all 45 games during his career at Wabash, Pynenberg set the school's all-time tackle record with 451 stops. He made 168 total tackles in 2007 to set the Little Giant single season record. He also ranks first in career tackles for losses with 73-1/2 and fifth in career sacks with 26-1/2. Pynenberg's 26-1/2 tackles for losses during the 2007 season also set a school record.
Pynenberg helped Wabash earn three NCAC titles in 2005, 2006, and 2007. Wabash advanced to the NCAA Division III quarterfinals in the 2007 football playoffs before losing to eventual national champion Wisconsin-Whitewater. He was an assistant coach for the Little Giants in 2008 and 2009, helping Wabash earn a fourth league title in 2008 and a second-place finish in 2009.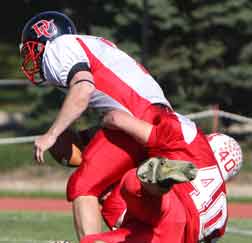 The D3football.com All-Decade Team encompasses players who either played or finished their careers during the span of years from 2000 to 2009. Pynenberg was one of only two NCAC players to be named to the All-Decade team. He was joined by Wooster running back Tony Sutton, a Fourth Team selection who played for the Scots from 2002-2004.




For more information see: