Birrer, Phillips, Rhinesmith Lead Wabash Swimmers in St. Louis
by Brent Harris • January 13, 2011

Share:
David Birrer, David Phillips, and Evan Rhinesmith posted first-place finishes Wednesday night in the Wabash swim teams 124-75 loss at Washington University-St. Louis.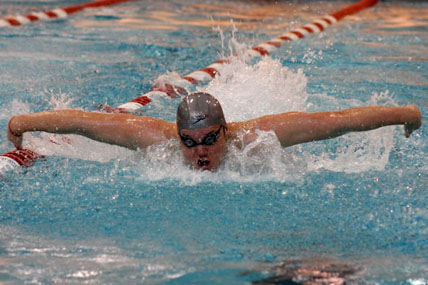 Birrer (right) won the 200-yard butterfly with a time of 1:57.98 and was part of a group of four Little Giants finishing in the top-five in the event. Adam Current added a second place finish with a time of 2:02.10, while Logan Falley took fourth place by finishing in 2:08.08. Brad Wise took fifth place by touching the wall in 2:14.89.
Phillips scored a first place finish in the 200-yard backstroke with a time of 1:58.62. Rhinesmith took first place in the 200 breaststroke, posting a winning time of 2:15.55. Paul Buescher grabbed fifth place in that race by finishing in 2:23.94.
Charles Williams, Alex Beck, Birrer, and Phillips combined for a victory in the final event of the evening — the 400-yard freestyle relay. The quartet won with a time of 3:22.77.
Several other Wabash athletes added top-five performances for the event. Williams, Rhinesmith, Birrer, and Eric Vaughn were second with a time of 3:38.61 in the 400-yard medley relay to start the evening of competition. Adam Barnes scored two third-place finishes by taking third in the 1000 free (10:33.36) and the 500 free (5:05.81). Chad Woods took fourth in the 1000 free (10:36.65) and fifth in the 500 free (5:07.53). Williams was third in the 200 free (1:49.92) with Phillips grabbing fifth place (1:51.16).
Vaughn took third place in the 100 free (50.31) and fourth in the 50 free (22.95). Beck added a fourth-place finish in the 100 free (51.37). Rhinesmith was third in the 200 individual medley (2:02.77), while teammate Logan Rice took fourth place (2:08.25).
The Little Giants return to action Saturday afternoon with a dual meet at the University of Indianapolis.
Game Stats