Little Giants Two Points Short in Front of Packed House
• January 8, 2011

Share:
A frantic finish and confusing sequence wasn't enough Saturday for the Wabash College Little Giants. Top-ranked Wooster escaped a packed Chadwick Court with a 67-65 NCAC victory to improve to 14-0 while Wabash fell to 13-1.
See pictures here, here, and here.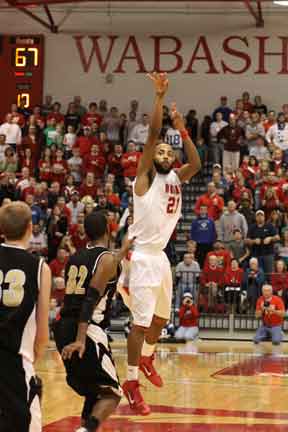 The nation's top-ranked DIII basketball team, and perennial NCAC power, shot 48 percent from the field to Wabash's 33 percent. Still, Wabash almost pulled off the impossible comeback. Trailing by 12 with 2:14 to play, the Little Giants went on a tear taking advantage of Wooster fouls, a couple of missed free throws, and turnovers.
Wabash got it to 61-66 on two Ben Burkett free throws with just 49 seconds to play. Wes Smith added two free throws to cut the margin to three with 23 seconds remaining. Then after a Fighting Scot turnover Aaron Zinnerman hit a driving layup with just 10 second on the clock, 65-66.
Then things got confusing. Wooster inbounded the ball and Wabash forced an apparent turnover. Zinnerman drove the lane and missed a pull up jumper but the officials were blowing a whistle. The explanation after the game was the clock never started after Zinnerman's layin and Wooster was awarded the ball.
The sequence left Coach Mac Petty shaking his head. "When AZ made the layup, the clock stopped. They took it out and threw it in and we stole it. The clock never started they're (officials) were saying. They said they needed to take two seconds off the clock and give it to Wooster again."
After the game the explanation was the clock was not turned off when the Zinnerman basket was made and the time should have been 4 seconds. Wooster got a free throw but missed the second. Wes Smith grabbed the rebound, raced down court and let fly from 35 feet. The ball rimmed out as the buzzer sounded.
"They shot well and they made a lot of layups," Petty said. "They got a lot of inside shots. We took some quick shots and didn't really let the offense come to us. I think part of it was playing in front of that crowd; we're not used to it. The crowd was fantastic."
The crowd was a big assist in the rally. Petty and other long-time Wabash observers speculated the standing room only crowd as the biggest in Chadwick since 1997.
Wabash couldn't match points in the first half hitting just 32 percent of its shots and only 3-of-12 three-pointers. They were out-rebounded 20-16 and still trailed by just one.
"We were trying to work to get good shots," junior forward Derek Bailey said. "Things did fall our way eventually and we were only down one point at half. We knew we had better basketball in us. So that was reassuring. We had No. 1 team in nation and we're down only 1 point at half time; we're ok with that."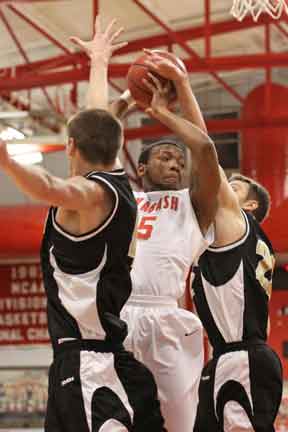 Wes Smith led Wabash with 21 points but hit 7-21 shots, while battling the flu. Petty said his star and leader was about 75 percent but the real difference in the game was just not hitting shots.
Bailey and Zinnerman added 11 apiece, Ben Burkett scored 9. Wooster was led by their All-American Ian Franks who finished with 27. Franks seemed to answer every Wabash run with a key basket.
The Little Giants will now have their mettle tested with four straight road games starting at Allegheny Saturday. Then three of the following four are also road trips.
"I've been talking to guys one on one saying this next stretch of four games is where we find out what we're made of," Bailey said. "We're going to have to be mentally tough and be able to fight through things. We're not going to have 2,000 people there for us like today. We know we're going to have to stay mentally tough and be ready to work every night."
Game Stats