Wabash Survives with Three-Point Win at Franklin
by Brent Harris • December 29, 2010

Share:
Wabash squandered a 17-point first half lead, but held on Wednesday night to improve to 12-0 with a 77-74 win at Franklin College Wednesday. Derek Bailey's two free throws with 11 seconds left in the game and a steal by Brian Shelbourne on the final play of the game secured the road win.
The Little Giants won the game in front of what had to be one of the biggest Wabash road crowds in recent years. See a photo album from Wednesday's game here. Joe Konz is a copy desk chief at the Indianapolis Star and photography buff. Check out his more than 200 photos from the game here.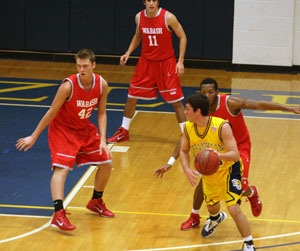 The Little Giants, ranked eighth in the nation in the latest D3hoops.com poll, exploded offensively to open the game. Wes Smith scored 14 of the first 18 points for Wabash, boosting the Little Giants to an early lead. Ben Burkett scored two of his 12 points with 8:27 left in the opening period to give Wabash a 30-13 lead.
Wabash came into the game as the fifth-best team in the nation defending the three-point shot, but Franklin used the long-range jumper to work its way back into the contest. Three treys by the Grizzlies helped trim the lead to three points. Franklin watched a desperation three rim out just ahead of the first half buzzer, giving Wabash a 38-35 lead.
The Grizzlies eventually took a 45-43 lead early in the second period on a three-pointer by Gunner Erwin. Wabash responded with treys from Aaron Zinnerman and AJ Sutherlin to eventually take a one-point lead midway through the period. Bailey Howard kept the Grizzlies close by scoring 10 of his team-high 22 points in the second half.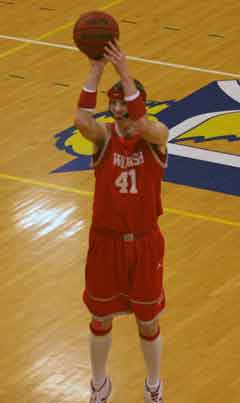 A putback basket by Erwin pushed Franklin ahead 61-60. The Little Giants responded with a seven-point run fueled by two Smith layups. The Grizzlies rallied to draw to with one-point with 1:32 left in the contest on another trey by Erwin, who finished with 17 points.

Both teams failed to score on the next possessions before Bailey (right) was fouled with 11 seconds remaining in the contest. The junior, who gave Wabash a two-point victory at Kenyon earlier in the season with a last-second three-pointer, calmly drained two free throws for a three-point Little Giant lead.

The Grizzlies tried to set up the final game-tying shot, but Shelbourne double-teamed junior center Will Conoley and took the basketball away with one second left to play.

Smith finished with 23 points to lead Wabash in scoring. Sutherlin added 16 points, his highest scoring total since transferring to Wabash. Zinnerman added 10 points. Smith also grabbed five rebounds to pace the Little Giants.

The Grizzlies shot 7-of-9 from three-point range, a marked improvement from their 2-for-10 effort in an earlier 96-55 loss to Wabash. The Little Giants shot 28-of-54 from the field for the contest for 51.9 percent, while Franklin (4-7) connected on 26-of-54 attempts (48.1 percent).

Wabash returns to the North Coast Athletic Conference portion of its schedule next week with two key home games. The Little Giants will play Denison University on Wednesday night at Chadwick Court, then will take on the number-one ranked, undefeated College of Wooster Fighting Scots in a 2 p.m. contest on Saturday.




Results: Wabash 77, Franklin 74 Game Stats