Wabash Mourns Professor Robert Cooley
• December 22, 2010

Share:
Wabash College mourns the loss of long-time mathematics professor Robert "Bob" Cooley, who taught at the College from 1962 through 1999. He was 83 years old, and passed away peacefully in his home on December 17.
Cooley led a remarkable life — as a military veteran, scholar, attorney, and community leader.
After graduating from high school in 1944, he served in the United States Navy. He attended the University of Alabama after his discharge from the service, and earned his bachelor's degree in biology. Cooley then earned a law degree from the University of Virginia Law School and enlisted in the Navy, serving as a commissioned legal officer and pilot during the Korean War. He served in California, Japan, and Alaska.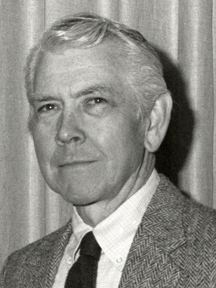 Upon his return to civilian life in 1956, he enrolled in Purdue University, from which he earned a master's degree and Ph.D. in mathematics.
Dr. Cooley joined the Wabash College faculty in 1962, received tenure in 1967, was named chairman of the mathematics department in 1979, and was promoted to full professor in 1980.
Along the way, he received a National Science Foundation Fellowship in 1972 and received a Lilly Faculty Open Fellowship in 1977. He served as a visiting professor at Hollins College and Purdue University. Shortly after attending the 25th reunion of his University of Virginia Law School class, Cooley passed the bar in the state of Indiana, and served Wabash students as head of the Pre-Law Society.
Professor Cooley and his wife of 58 years, Mary Angela, had four children, and together they served as foster parents for more than a decade.
A long-time advocate for children and children's rights, Dr. Cooley served greater Montgomery County as chairman of the Tri-County Association for Retarded Citizens, the Child Protection Service Board, and as a member and senior warden of Saint John's Episcopal Church. His memberships included the Crawfordsville Rotary Club, the Mathematical Association of American, the Crawfordsville Community Chorus, the Bach Choral Singers, and the Lafayette Chamber Singers.
A memorial service celebrating Professor Cooley's life will be held at 1 p.m. on New Year's Day (January 1) at Saint John's Episcopal Church in Crawfordsville.