Strausbaugh, Moore Place at 2010 Midwest Classic
by Brent Harris • December 20, 2010

Share:
Sophomore Jake Strausbaugh finished in second place at 149 pounds and senior Jake Moore took fourth place at 165 at the 2010 Midwest Wrestling Classic hosted over the weekend by the University of Indianapolis.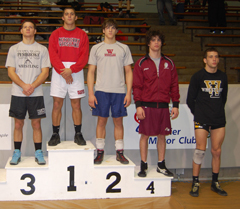 Strausbaugh entered the talent-laden competition seeded third in his weight class. He opened with an 11-1 victory over Beau Voegeli from Northern State, followed by a 7-2 victory against Derek Allen from Calumet St. Joseph. A 14-9 victory by Stausbaugh against sixth-seeded Daniel Genetin from Ashland moved the Wabash wrestler to the championship semifinals, where he knocked off second-seeded Mark Marianovich from Lincoln College 12-7. The win put Strausbaugh up against top-seeded Dale DeBacco from Newberry. Strausbaugh lost a tight 7-4 decision to finish in second place.
Moore advanced to Sunday's second day of competition after posting a 10-2 win aver Cory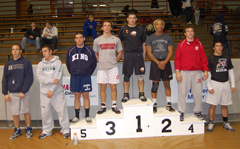 Disbennett from Mount St. Joseph. Moore, the seventh-seeded wrestler in the 165-pound bracket, lost to second-seeded Mike Williams from North Carolina-Pembroke in the championship quarterfinals. Moving to the consolation bracket, Moore scored an 8-4 win over fourth-seeded Thomas Graszl from Ashland, followed by a 4-3 win against Ryan Pieper from Trine after Pieper had defeated the third-seeded wrestler in the weight class. A 12-8 win against fifth seed Patrick Spano from King College in the consolation semifinals sent Moore to the championship round, where he lost 11-4 to sixth-seeded Blake Ridenour from Newberry.
Wabash finished 14th out of 21 teams at the two-day event. The Little Giants will return to action next week at the Midlands Championships at Northwestern University December 29-30.
Game Stats