NCAA On Campus Features Kevin McCarthy '12
by Brent Harris • December 13, 2010

Share:
NCAA On Campus visited the Wabash College campus a few weeks ago to produce a video feature on junior cross country and track and field athlete Kevin McCarthy.
The video features McCarthy's summer internship working with a medical program in rural Appalachia. McCarthy left Indiana 24 hours after competing at the 2010 NCAA Division III National Championship Track and Field for Hyden, Kentucky. He worked as a volunteer with the Frontier Nursing Courier Service, assisting in a program in which medical professionals provide primary care for people in the Leslie County area.
View the video here.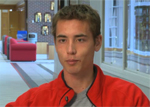 "It was an extraordinary experience, one that further increased my interest in primary medicine as well as the service in rural medicine," McCarthy said. "Leslie Count is very rural — the entire county has approximately 12,000 people total. Beyond my work with the Frontier Nursing program, it was a month of rich study of generational poverty, and American backwoods religion and history seated in the land of coal country. It is a different culture than here. I felt as though I had traveled back in time almost 50 years."
NCAA On Campus spent time in the classroom and at cross country practice with McCarthy. Senior Kyle Grand served as the host for piece.