Early Bird Meets Starts 2010-11 Track Season
by Brent Harris • December 11, 2010

Share:
The indoor portion of the 2010-2011 Wabash track and field season got underway Saturday afternoon with the 2010 Robert H. Johnson Early Bird Invitational. Eleven Little Giant athletes earned top-five finishes in the non-scoring meet.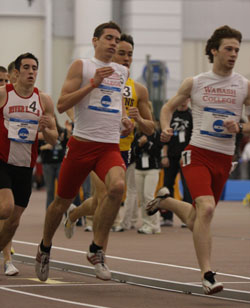 All-American Kevin McCarthy started the new season off with a first place finish in the 800-meter run, posting a winning time of 2:00.21. Teammate and fellow All-American Jake Waterman took third place with a time of 2:05.55.
Jake Zielinski took the top spot in the 200-meter dash with a time of 23.09. John Haley was fourth, crossing the finish line in 23.68.
Wabash record-holder Matt Knox cleared 14 feet, six inches (4.41 meters) to finish second in the pole vault. Freshman Trevor Young cleared 14 feet in his first collegiate competition to finish in third place.
Freshman Jake Ponton was third in the 3,000-meter run with a time of 9:36.17. Patrick Carter took fourth place in the mile run (4:55.14) while teammate Jacob Surface was right behind in fifth place (4:56.73). Matt Scheller added a fifth-place finish in the weight throw with a mark of 15.18 meters (49 feet, 9-3/4 inches).
The Wabash team of Zielinski, Patrick Posthauer, Chet Riddle, and Haley took second place in the 800-meter relay with a time of 1:32.82.
Wabash returns to action with another home meet — the Little Giant Invitational — on Saturday, January 22, 2011.
Results - 2010 Robert H. Johnson Early Bird Meet