Retirees Honored for 342 Years of Service to Wabash
by Steve Charles • December 9, 2010

Share: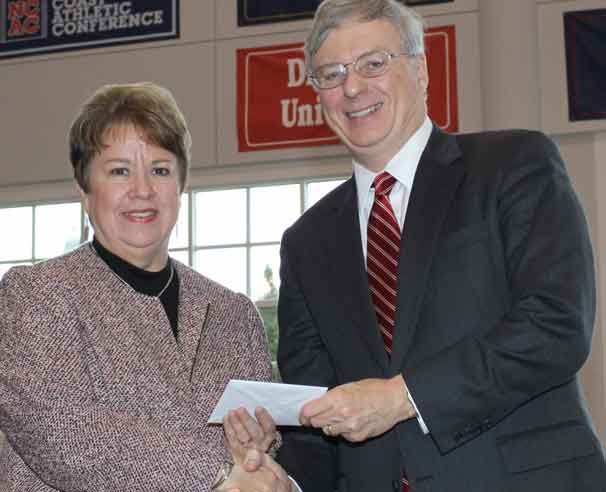 Thirteen members of the Wabash community who will retire this semester with a combined 342 years serving the College were honored Thursday by their colleagues and families at the Retirement Luncheon in Knowling Fieldhouse.
Celebrated during the annual Faculty/Staff Retirement Luncheon were Printing and Mail Office Manager Marcia Caldwell, Comptroller John Culley, Accounts Payable Clerk Kathy Day, Senior Advancement Officer and Coordinator of Volunteer Services Nancy Doemel, Professor of Biology and Director of Operations for the Center of Inquiry Bill Doemel, Senior Administrative Assistant to the President Carolyn Goff, Annual Giving Coordinator Carolyn Harshbarger, Director of Student Activities and Assistant Football Coach Steve House, Senior Biology Lab Manager Cindy Munford, Senior Administrative Assistant to the Dean of Advancement Guyanna Spurway, IT Senior Systems Analyst Kathy Tymoczko, and Secretary to the Registrar Linda Wilson. Honored but unable to attend the luncheon was Reservations and Print Shop Clerk Debbie Bourff.
See photos albums of those honored here, and read excerpts from the presenters' remarks here.
In photo above: Guyanna Spurway is congratulated by President Pat White for her nearly 40 years of service and her well-earned retirement.