Quick Start Moves Wabash to 9-0
by Brent Harris • December 7, 2010

Share:
The Little Giant basketball team jumped out to an early lead, then held on late for a 62-50 win over Ohio Wesleyan University Tuesday night to improve to 9-0 for the season and 2-0 in the North Coast Athletic Conference.
View photos from the victory here and here. A free extras can be found here.
Wabash, ranked 11th in the nation in the latest D3hoops.com poll, led by as many as 26 points midway through the final period before an 11-2 run in the last five minutes of the contest allowed the Battling Bishops to close the score to 12 points.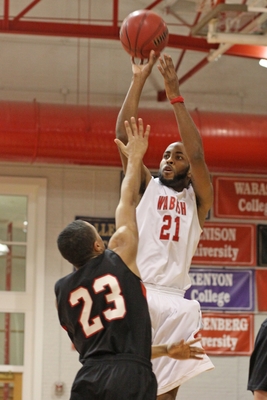 The Little Giants dominated the outshooting in the game, connecting on 11-of-29 three-pointers. Defensively Wabash shut out OWU from beyond the arc. The Battling Bishops missed all 14 of their three-point shot attempts.
"We didn't execute in the closing minutes of the game," Assistant Coach Antoine Carpenter said. "We made a couple of bad turnovers or took too many quick shots. Then defensively we gave up too many easy baskets late in the game, allowing them (Ohio Wesleyan) to cut into our lead."
Wabash scored the first 12 points of the game, with senior Wes Smith (right) hitting two consecutive three points to opening the offensive attack. Brian Shelbourne added a jumper in the lane, followed by four more points for Smith to put the Little Giants up big in the first five minutes of the contest. The Bishops would get as close as six points before a three-pointer barrage ended any chance of an early comeback.
Senior Andrew Gilman came off the bench to hit the first long-range shot, followed by back-to-back treys for junior AJ Sutherlin, who finished with a season-best 12 points.
"AJ really hit some big shots for us tonight," Carpenter said. "That really got us going in the first half and allowed to us to pull away to the big lead."
That lead became as many as 19 points in the closing minutes of the half before Wabash settled for a 35-18 halftime advantage.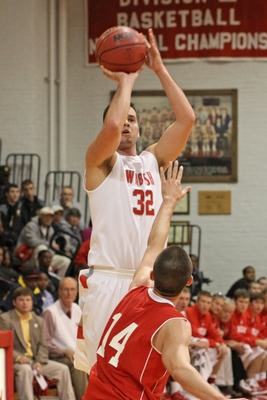 Ohio Wesleyan (3-5, 1-1 NCAC) started the scoring in the second half with a Tim Brady layup, but the Little Giants responded with two three-pointers from Aaron Zinnerman to stretch the lead to 21 points. Another Sutherlin three made it a 53-27 ball game with 11:43 remaining before the Bishops began whittling away at the lead. OWU would trim the advantage to 12 points with 2:05 left to play, but would get no closer.

Smith led Wabash with 17 points and 15 rebounds, recording his first double-double of the season. He also recorded three steals, giving him 201 for his career to become the first player in Wabash history to have 200 or more career steals.

Ben Burkett added nine points, while Shelbourne finished eight. Brad scored 18 points to lead Ohio Wesleyan in scoring. Reuel Rogers chipped in 10 points off the bench for the Battling Bishops.

Wabash is 2-0 in NCAC play for the first time since the 2005-2006 Little Giant team won its first three conference games. Wabash travels to Kenyon College for a Saturday league tilt at 3 p.m.

Video Highlights




Results: Wabash 62, Ohio Wesleyan 50 Game Stats