Wabash Opens NCAC Play With Three-Point Win
by Brent Harris • December 4, 2010

Share:
Andrew Gilman's two three-point baskets helped erase a nine-point Hiram lead, eventually giving Wabash a 59-56 road victory. The Little Giants improved to 8-0 overall while opening the North Coast Athletic Conference portion of its season with a win.
The Terriers' full court pressure and offensive rebounding helped Hiram take a 46-37 lead with 9:30 left to play in the second half. Wes Smith scored three consecutive baskets to trim the lead to three points before Hiram answered with a trey from Aaron Stefanov. Nick Curosh tipped in a missed three-pointer by Smith, then followed another jumper to draw Wabash to within two points.
Gilman, who came into the game off the Little Giants' bench, drilled his second three-pointer of the game with 5:10 remaining in the contest to give Wabash a one-point lead. The Little Giants stretched the advantage to as many as six points in the closing minutes, only to see Hiram make it a one-point contest with nine seconds remaining after three free throws by Chris Roberts.
"Gilman was the player of the game," Wabash Head Coach Mac Petty said. "He hit those three-point baskets that really got us settled down on offense. We worked on breaking Hiram's press, but didn't execute. We were making difficult passing lanes for our players, and that kept us from getting into anything."
Smith responded with two free throws, forcing the Terriers into two desperation three-point shots at the end of the game that fell short, giving Wabash the victory.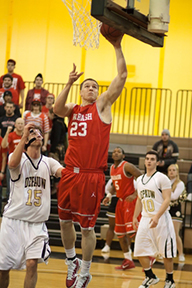 Senior Ben Burkett (left) provided most of the offensive firepower early in the game for the Little Giants. Burkett scored six of his 10 first-half points during a five-minute stretch that kept Wabash within two points of the Terriers. Burkett finished with 14 points and seven rebounds.
"Ben played well inside for us today," Petty said. "We shot a little too quickly at times instead of trying to get the ball back down inside to him on several of our offensive trips. We've got to do a better job of recognizing what options the defense giving us."
Smith led the 13th-ranked Little Giants with 21 points. Aaron Zinnerman added seven points and had three key steals in the second half to keep Wabash in the game.
Roberts finished with 13 points for Hiram, scoring his 1,000th career point to become the 22nd Terrier player to reach that mark. Stefanov added 11 points off the bench.
Wabash returns to action on Tuesday night at Chadwick Court against Ohio Wesleyan University. Tipoff of the NCAC clash is set for 7:30 p.m.
Game Stats